Sixteen projects have been awarded a total of €65m from a State-backed fund aimed at fostering so-called disruptive technologies.
Among the innovations are a zero emissions heat pump which is free of refrigerant, a waste water project for the food and drink sector and an artificial intelligence wearable device which will allow kidney dialysis patients to self manage.
The other partners involved funding the projects are small and medium sized enterprises as well as multinationals and academic institutions.
The announcement was made at the Nova Institute in University College Dublin.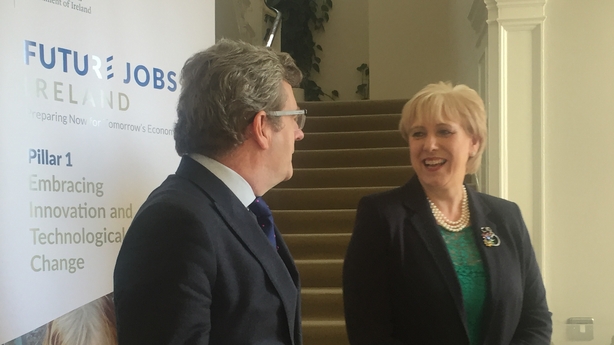 The finance is part of a €500m fund set up under the Government's Project Ireland 2040.
The announcement, which was made by Minister for Business Heather Humphreys, Minister for State for Innovation John Halligan and Minister for Social Protection Regina Doherty, represents the second tranche of money from the €500m fund - it means a total of €140m has been committed to date.
The successful projects were: 
A next generation heat pump developed by Exergyn with Dublin City University and Fort Wayne Metals Ireland
 
Sustainable bio-renewable energy from wastewater led by NVP Energy with Ashleigh Environmental and National University of Ireland, Galway as partners
 
Point-of-care iron stores/ferritin testing for at-risk blood donors, women and children, led by Radisens Diagnostics with Irish Manufacturing Research, Poly Pico Technologies and Trinity College Dublin
 
Pharma Latch, a disruptive microneedle drug delivery platform, led by Latch Medical with Blueacre Technologies, TheraDep Limited and University College Dublin
 
Developing a tailored aerosol delivery technology for the treatment of Chronic Obstructive Pulmonary Disease, led by OmniSpirant with Aerogen Ltd and National University of Galway Centre for Cell Manufacturing Ireland as partners
 
TRANSPIRE - a trained AI Platform for Regulation, led by Corlytics with CeADAR UCD and Singlepoint Solutions
 
STROKE-CIS, developing Clot Ingestion System, medical technology to treat stroke led by Perfuze Limited with Teleflex Limited and VistaMed Limited.