Huawei Ireland has today opened a new Dublin office and announced the creation of 100 jobs over the next three years as the company continues to expand in Ireland.
The company said that recruitment is underway for the first phase of the jobs and 30 of these positions are expected to be filled within the next year.
Huawei's Dublin headquarters will include communications, administration, marketing, its Irish consumer business and related sales functions.
In Ireland since 2004, the Chinese telecom giant currently employs 180 staff across its Dublin, Cork and Athlone facilities.
Jijay Shen, CEO of Huawei Ireland, said the company's focus here will continue to be on strengthening its relationships with local customers, partners, operators and regulators.
Huawei's Rotating Chairman Guo Ping said that when the company first opened its office in Dublin it had only four employees. 15 years later it has 180 staff and over the next three years it will create 100 new jobs.
"The business in Ireland has significantly grown and as we have grown, so too has Ireland. We appreciate the trust and support of our customers and individual consumers along the journey," Huawei's chairman said.
"Through challenging times, Ireland showed resilience and now is one of the most successful economies in Europe. Huawei admires the resiliency and determination of the Irish people because these values are at the core of our business too," Guo Ping said.
"Ireland has an open economy and a highly-skilled talent pool and today's announcement of 100 jobs and the opening of a new Dublin office will drive our long-term investment and cooperation focus here," he added.
Martin Shanahan, the CEO of IDA Ireland, said Huawei's expansion will add substantially to Dublin's technology ecosystem and demonstrates the company's continued commitment to its Irish operations.
Meanwhile, Client Solutions, which provides specialist IT services, has announced plans to create 100 new jobs across its operations over the next three years.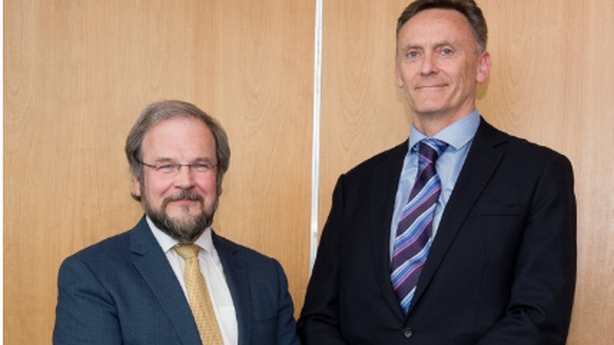 The company is wholly Irish-owned and has operations in Cork, Dublin, Barcelona and Wroclaw.
Client Solutions said the majority of the 100 new jobs will be in Dublin and Cork, with about ten in its satellite operations.
There are currently 200 people working with Client Solutions across the four key services and today's expansion plan will see that number grow to 300 by 2021.
Founded in 1994, Client Solutions is one of the country's longest established companies in their sector. Clients include AIB, Bord Gáis Energy, Eir, Kingspan, Tesco Mobile and VHI.