New Central Statistics Office figures show that 91% of households have internet access in 2019, a rise of two percentage points since 2018.
The CSO's latest Information Society Statistics also reveal that fixed broadband is the most common type of household internet access at 84%, compared with 47% using mobile broadband.
The statistics also show that 79% of internet users are daily internet users, and of this cohort, 58% use the internet several times a day.
It noted that 5% of 16-25 year olds use the internet "all the time".
Finding information on goods and services and email are the most common internet activities, carried out by 84% of internet users, the CSO said.
The next most common activities are instant messaging at 75% and reading or downloading online news sites, newspapers and or magazines and internet banking.
The CSO noted that clothes and sports goods are the most common type of goods or service bought online, purchased by over half of internet users at 51%, followed by holiday accommodation at 47% and other travel arrangements at 45%.
---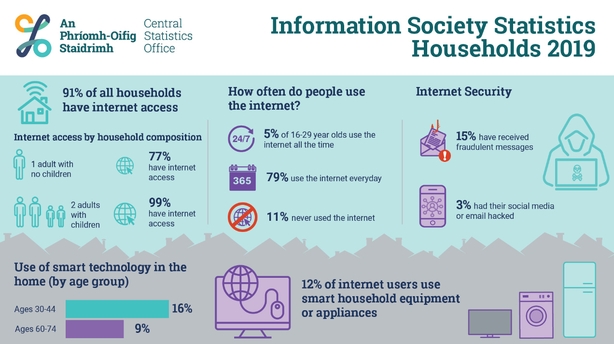 ---
Meanwhile, the figures also show that 12% of internet users are now using home smart technology - this is where people use the internet to interact with household equipment or appliances, including heating, lighting, and security systems.
On security, the CSO said that receiving fraudulent messages - or phishing - was experienced by 15% of internet users, while online identity theft was reported by 2% of internet users.
9% of those surveyed also found that their children had accessed inappropriate websites.