The owners of Paddy Power and Poker Stars have agreed to merge in an all-share deal to create one of the world's largest online betting and gambling companies.
Flutter Entertainment, formerly known as Paddy Power Betfair, said it would combine with Nasdaq and Toronto-listed Stars Group, owner of Poker Stars. 
Following the merger, shareholders of Flutter would own about 54.64% of the new company, with TSG shareholders owning about 45.36% of it. 
After gaining as much as 18% in earlier trade, shares in Flutter were up over 5% in Dublin trade this afternoon.
The merger is the latest in a series of deals as the industry responds to the growing number of gamblers using online and mobile devices and the opportunity created by the relaxation of rules on sports betting in the US.
The companies said today that their combined annual revenues would have totalled £3.8 billion in 2018, making it the largest online betting and gaming operator globally. 
The merger is expected to deliver pretax cost synergies of £140m a year, along with opportunities to cross-sell products to one another's customers in international markets and lower finance costs, they said. 
The deal is also expected to boost Flutter's underlying earnings per share by at least 50% in the first full financial year following completion. 
Paddy Power owner to merge with Stars Group in 'transformational deal' pic.twitter.com/RAuSZUO7xY

— RTÉ Business (@RTEbusiness) October 2, 2019
The merged group will be boosted by a partnership in the US with FOX Sports, which will have the right to acquire an 18.5% stake in Flutter's FanDuel US business from 2021.
Dublin-based Flutter merged its US business with fantasy sports company FanDuel last year in a deal it said would create the industry's largest online business in the US. 
TSG had bolstered its British operations last year when it bought Sky Betting & Gaming in a $4.7 billion deal.
Under the terms of the merger, TSG shareholders will be entitled to 0.2253 new Flutter shares for each TSG Share. 
Flutter has sharpened its focus on North America as the potentially huge US market opens up and it faces higher taxes and increased regulations in its main Irish, UK and Australian markets. 
Betting exchange Betfair and Paddy Power, which runs betting shops as well as an online business, merged in 2016 amid a flurry of consolidation in the sector.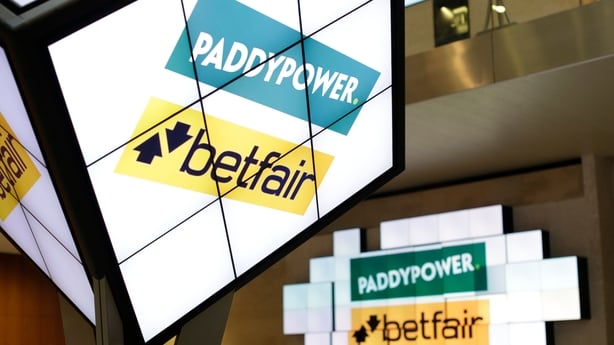 However the integration took longer than anticipated and took a toll on product investment for a time.
The combined group will serve customers in more than 100 countries.
Around half of its current income is generated in Britain and Ireland, with 15% in Australia, 5% in the US and 31% from the rest of the world.
The deal is still subject to shareholder approval as well as approval from the London stock exchange and Euronext Dublin, where Flutter is currently listed.
The two companies said approval for the deal from Flutter and TSG shareholders is expected to be sought in the second quarter of 2020 and completion of the deal is expected to occur during the second or third quarter of 2020.
Peter Jackson, CEO of Flutter, said the deal represents a great opportunity to deliver a step change in the company's presence in international markets.
Mr Jackson said it will ensure Flutter is ideally positioned to take advantage of the "exciting opportunity" in the US through a media relationship with FOX Sports as well as its development of US sports betting through its FanDuel and TSG's FOX Bet brands. 
"The combination will turbocharge our existing four-pillar strategy and provide world-class capabilities across sports betting, gaming, daily fantasy sports and poker, as well as greater geographical and product diversification," Mr Jackson said.
"We believe the combination of Flutter and TSG will deliver substantial value for shareholders. We will have an exceptional portfolio of leading recreational brands and best-in-class products on industry-leading technology platforms," he added. 
Rafi Ashkenazi, CEO of TSG, said that the combination with Flutter will further enhance the company's core strengths, and position it strongly for the future in this rapidly evolving industry.
When the deal is complete, Peter Jackson - currently CEO of Flutter - will assume the role of CEO of the combined group, while Jonathan Hill, currently CFO of Flutter, will assume the role of CFO. 
Rafi Ashkenazi, currently CEO of TSG, will assume the role of COO and Gary McGann, currently chairman of Flutter, will assume the role of chairman of the combined group.
The combined group will be incorporated, headquartered and domiciled in Dublin with a Listing
on the London Stock Exchange and a secondary listing on Euronext Dublin.
Commenting on the deal, Davy Stockbrokers said that Flutter's proposed acquisition of The Stars Group represented a "truly transformational deal" for both the company and the industry. 
Davy said the deal improves Flutter's position in key growth markets, including the US, while it will also bolster scale and market position in its core and more mature end-markets. 
But the stockbrokers noted that acquisitions of this kind are not without risk and the deal would also increase Flutter's exposure to unregulated markets in Germany and Russia as well as poker. 
"However, simply put, it sets Flutter apart as a play on the attractive global gambling opportunity," they added.
Paddy Power first opened for business with 42 shops in Ireland in 1988, formed from the merger of three smaller bookmaker chains.
Shares in Flutter Entertainment moved higher in Dublin trade today.