Ryanair shareholders have narrowly approved a bonus scheme for Chief Executive Michael O'Leary that could earn him around €100m over five years.
The bonus scheme, which requires him to either double the profitability or share price of the carrier within five years, was approved by 50.5% of votes.
In February, Mr O'Leary said he would stay for another five years at Europe's largest low-cost airline.
The airline's share price has roughly halved over the past two years amid a series of disputes with unions and delays to the delivery of the grounded Boeing 737 MAX.
Mr O'Leary also told today's AGM that the company had no back-up plan if the safety issues that have delayed delivery of new Boeing 737 MAX aircraft are not resolved.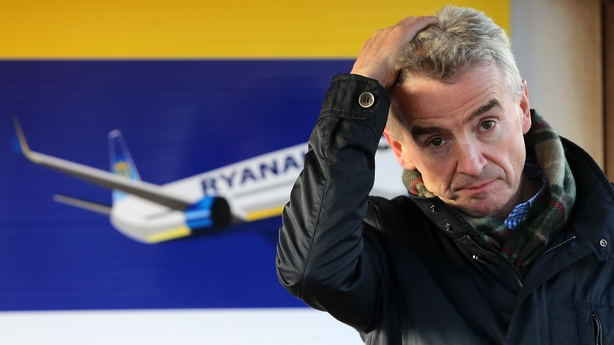 But addressing shareholders, Mr O'Leary said he thought it was highly unlikely that the new aircraft would never fly again.
He said nobody in the industry believes there is a fundamental safety issue with the aircraft, which have been grounded following two crashes.
"Plan B is we slow down the growth further next year, in which case if we have to slow down growth further there will be less seats on sale, prices will be slightly higher and shareholders will do better in the short-term," Mr O'Leary told the media afterwards.
"But in the medium-term we have shown that growing at lower prices in the longer-term is better for shareholders," he stated.
"But there's no doubt if we have to stop growing for a year or 18 months because we have no new aircraft in the short term that would be very advantageous for shareholders, but not very advantageous for customers."
Ryanair has 210 of the 737 MAX on order. The first deliveries had been expected this year. 
But due to the ongoing safety investigations, Mr O'Leary said it would now be January or February of 2020 at the earliest before the first deliveries were made.
This could be even pushed out further to March or April.
Ryanair shareholders narrowly approve bonus plan for CEO O'Leary pic.twitter.com/OY6wEcRFff

— RTÉ Business (@RTEbusiness) September 19, 2019
"Like everybody else in the industry our first priority here is the safety of the aircraft and therefore whatever needs to be done to ensure that the safety agencies in the US, the FAA, and in Europe EASA are happy with the safety of the aircraft, that is what we will do," he said.
Mr O'Leary said he expects that just 30 will be delivered before the summer season and as a result this could lead to a slippage in planned summer growth.
The Ryanair CEO said the airline was in discussions with regulators about additional training requirements for pilots.
Mr O'Leary added that the company had frozen pre-delivery payments to Boeing and is in talks with the manufacturer about covering its costs.
He said the airline now has between 500 and 700 surplus staff, partly because of the delay in deliveries and also because the movement of pilots to other airlines has slowed right down.
Mr O'Leary said base closures had already been announced in Belfast and the Canary Islands.
Some other bases in the UK will be downsized and Dublin could be one of the places where there could be reductions, he added, as there are surplus pilots there.
Discussions have been initiated and some base transfers may be possible, but the jobs of up to 20 of the airline's 400 pilots in Dublin may be at risk, he said.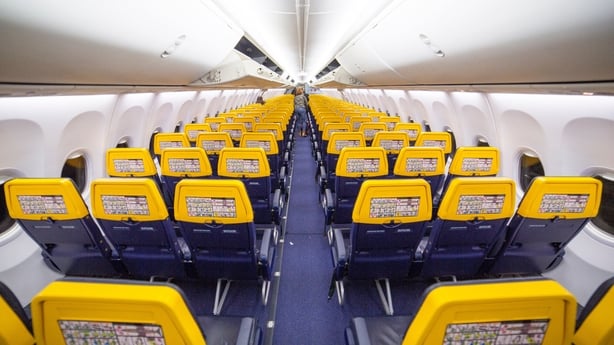 "We are looking at voluntary redundancies but ultimately you are going to move from voluntary to compulsory very quickly," he said.
Mr O'Leary also told shareholders that the airline will continue to work hard on finalising agreements with unions around Europe in order to reduce industrial unrest.
He said deals had been signed with unions in most major markets and rebuffed suggestions from a shareholder that Ryanair did not have people with enough experience of negotiating with unions working for it.
He said the negotiations had been remarkably successful and that it was never going to be simple or easy.
It had been a learning experience on Ryanair's side, he said, but the speed of putting agreements in place has demonstrated considerable skill across its team he added.
Speaking to the media afterwards, Mr O'Leary defended the remuneration agreement he struck with the airline earlier this year as part of a new five-year contract.
As part of that deal, Mr O'Leary agreed to a 50% cut in basic salary to €500,000 a year from €1m. His maximum bonus was also cut to €500,000. 
However, the contract includes 10 million share options, which he can exercise at €11.12 if profits exceed €2 billion in any year up to 2024 and/or the share prices exceeds €21 for a period of 28 days between April 2021 and the end of March 2024. 
This potential €100m pay day was criticised by one shareholder representing the UK Railways Pension Scheme who said it raised a red flag for it.
"I don't think there is any investor in that room that would begrudge a larger number of share options if I double their investment in the next five years. But it does align my interest with those shareholders," Mr O'Leary told journalists.
Ryanair board member and the airline's former finance chief, Howard Millar, also defended the deal, telling shareholders Ryanair has signed a deal with Boeing for €25 billion in aircraft.
He said retaining Mr O'Leary's services was therefore very important for the board and the company to deliver the very ambitious plans it has.
Mr Millar added that the CEO's pay was lower than peers in the industry and the annual cost of the new deal is significantly below what he earned two years ago.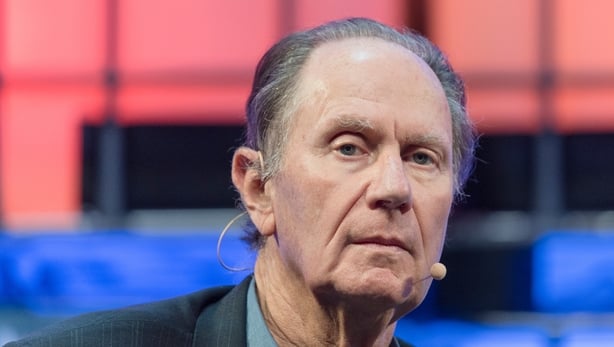 The board members were all returned despite calls in advance of the AGM by investor advisory services for investors to vote against the re-election of half of the 12-person board. 
In relation to Brexit, Mr O'Leary told shareholders that it continues to hang over the market, depressing travel trends. 
The aviation boss said he does not think there will be a crash out Brexit at the end of October and if there is, then in the short-term there are already contingency measures in place for airlines.
He said this means there should be no disruption for a nine-month period. 
But after that, ownership and flight rights issues would become a problem and a trade deal covering aviation would have to be done, he added.
Shares in the company were lower in Dublin trade today.