Housebuilder Cairn Homes has reported higher revenues and profits for the first half of 2019 as it completed 390 house sales.
Cairn Homes said revenues jumped by 48% to €192.4m from €130.2m the same time last year.
Operating profits for the six month period rose by 51% to €27.3m from €18.1m in the first half of 2018.
During the six month period, the company closed 390 sales at an average selling price of €449,000. This compares to 293 sales at an average selling price of €393,000 in the first half of 2018.
Cairn noted that the higher average selling price this year was largely due to the sale of 120 units at Six Hanover Quay in Dublin city centre.
The company also today proposed its first interim dividend of 2.5 cent per ordinary share, which it said marked the start of a "progressive biannual ordinary dividend".
But its shares fell over 6.6% in Dublin trade today as weaker than expected margins overshadowed those higher profits.
Analysts at Davy Stockbrokers and Investec said Cairn's margins were lower than expected due to slowing price inflation, mainly at a prime Dublin apartment block Cairn sold to a private landlord in June.
The company today also announced a €25m share buyback programme, which will start on September 13.
Looking ahead, Cairn Homes said that the supply and demand imbalance continues to be a significant challenge for the Irish housing market.
"Notwithstanding general concerns surrounding Brexit, the company continues to experience strong demand for our new homes, particularly our competitively-priced and well located starter homes," it added.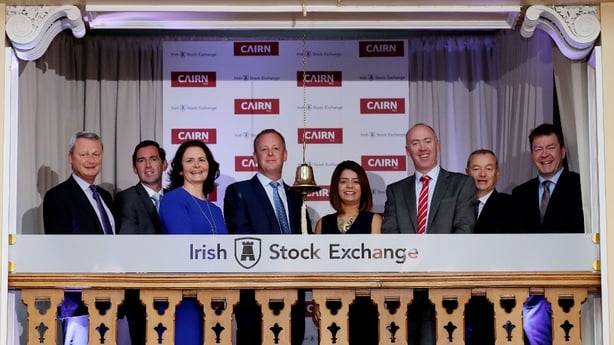 Michael Stanley, co-founder and CEO, said the company today reached an important milestone with the start of capital returns to shareholders by way of an interim dividend and a share buyback programme.
He said the company had executed the plan set out at the time of its flotation and continued to deliver "high-quality and competitively-priced starter homes at affordable prices for hundreds of Irish families".
"Given market demand for our product and delivery pipeline, we look forward to the full year with confidence," the CEO added.
House prices have begun to stabilise in recent months here.
In an interview, Cairn CEO Michael Stanley said the starter home market it focuses on was not affected by the nervousness around a fallout from Brexit, which was holding back potential buyers of more expensive homes.
"It's very obvious from our numbers on the sale side that that's not filtering down in any way to first time buyers side or institutional capital when it comes to PRS (private rental sector)," Mr Stanley told Reuters.
"Once we're building homes at the appropriate price level, bluntly we can't build them fast enough. The vast majority of people buying our homes are couples, young families making life decisions," the CEO said.
"If you asked them what a backstop is at any of our show units this weekend, they'd look at you funny and say show me where the dishwasher is," he said
"They're just not focussed on it," he added.
Michael Stanley said he saw an "average to poor" response to a lack of supply continuing, keeping rents sky high and maintaining the strong demand for Dublin-focussed Cairn's midpriced homes as it grows at more than three times the market rate.
"It's just going to take time and not going to happen in the next couple of years in my view because it's just difficult for private housebuilders to scale up," he said.
"It's 50% more expensive to rent one of our starter homes than buy one - that's an extraordinary number that people don't seem to fully understand. That's a compelling proposition for our customers," he added.
In its results statement, Cairn Homes said it was active on 15 sites by the end of June, which will deliver about 5,250 new homes.
It started work on three new sites in 2019 - a starter home housing site at Edenbrook in Dublin 24 and apartment sites at The Quarter in Citywest and Griffith Avenue in Dublin 9.
The construction of new phases also started at its Marianella (Rathgar) and Mariavilla (Maynooth) sites.
It finished the building of the apartment development at Six Hanover Quay in Dublin 2, was well as Phase 1 at Shackleton Park in Lucan and Phase 2 at Churchfields in Ashbourne during the six month period.
Cairn is currently selling from 12 sites and the 2019 Autumn selling season has just started, while the first launch of the "premium" apartments at Donnybrook Gardens in Dublin 4 is scheduled for the fourth quarter of this year.
It also said its current land bank will support the delivery of about another 15,400 new homes.