Apple has unwrapped a series of new devices, including three new iPhones, a Series 5 "always-on" Watch and a seventh generation iPad at its traditional autumn launch event in Cupertino.
The launch represented the latest effort by the technology giant to counteract growing competition from rivals such as Samsung and Huawei.
Most attention focused on the new iPhone 11 Pro which comes in two screen size options – 5.8" and 6.5" on the larger Max model.
The device has a new Super Retina XDR display and is powered by Apple's new A13 Bionic chip, which the company claims is the fastest processor ever in a smartphone, capable of one trillion operations per second.
The new high-end phone, available in four different colours, is the first from Apple to feature a triple main camera, although other manufacturers' smartphones already include this feature.
The system is made up of 12MP wide, telephoto and ultra wide lenses, with 4x optical zoom and a new Night Mode.
The iPhone 11 Pro claims four hours more battery life than the iPhone Xs, while the larger iPhone 11 Pro Max boasts five extra hours of power.
However, there was no mention of 5G connectivity at a time when mobile operators are starting to roll out such networks around the world.
The new phone will cost from €1,179, while the Max version will start at €1,279, with the devices becoming available from September 20th.
The company, criticised in recent years for the high costs of its premium iPhones, also revealed the new iPhone 11, which will replace the cheaper iPhone XR.
It has a 6.1" Liquid Retina display and a new dual camera system that couples a wide sensor with a new ultra wide lens that captures a 120-degree field of view.
The front camera has also been upgraded to include a wider 12MP sensor, with 4K and slow motion video recording.
The device will also be powered by the A13 Bionic chip and the battery will last one hour longer than last year's iPhone XR, Apple claims.
It will cost from €829 when it goes on sale.
Apple is under pressure to grow revenues in other areas like services, because iPhone sales have declined year-on-year for the past two quarters.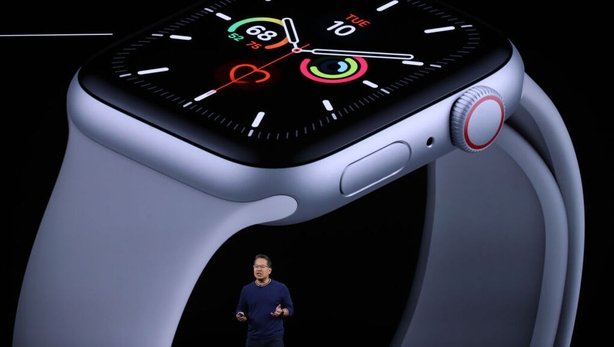 The company also launched the Apple Watch Series 5. It will feature an always-on display, a built in compass and the cellular models will have international emergency calling.
It will cost from $399 for the GPS models and $499 for cellular versions, and will go on sale from September 20th. The Series 3 Watch will fall in price to $199.
Apple also revealed details of a number of new health research studies that will use Watch in the areas of hearing, women's health and heart health.
The company also launched the seventh generation iPad, with a new 10.2" Retina display, replacing the most popular 9.7" model.
It will be driven by the A10 Fusion chip and has a smart connector to allow a full size keyboard to be connected.
The tablet will also run the new iPad OS operating system which has new multi-tasking features and a floating keyboard for one handed-typing.
The new iPad will start at €399 and it will ship from the end of the month.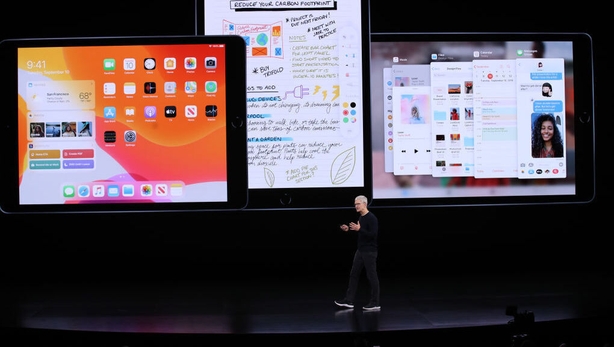 The company also provided an update on its Apple arcade gaming subscription service which will become available from September 19 in 150 countries around the world.
Over 100 game titles, playable on iPad, iPhone, Mac and Apple TV, will be available at launch.
It will cost $4.99 a month for a family subscription and will launch with a one month free trial.
Also showcased at the press conference was Apple's TV+ service, which will provide access to a range of new exclusive shows.
The first shows will be available on November 1, with more being added each month.
It will be available in over 100 countries at launch and will cost $4.99 a month for a family subscription.
The company is giving away a one year subscription with every new iPhone, iPad or Mac bought.
The service enters a crowded market, with Netflix, Amazon and others already dominating.