The smartwatch market is awash with options, some good, some so-so, and some just downright awful.
Huawei has been refining its offerings for some time now, but although an incremental development, the Watch GT marks something of a change of direction.
DESIGN
The timepiece isn't the most attractive smartwatch out there, but it isn't hideous either.
The model I tried was the Sport, which came with a black ceramic and metal case and black silicone wrist band which may be practical, but isn't terribly elegant to look at.
It has a stationary bezel and a solid, durable, and quite premium-looking case, with the usual array of sensors to the rear.
It was also thin and pretty light to wear, which is good.
There are other styles though with different metal finishes, slightly different appearances and size options.
The Classic, for example, comes with (as its name suggests) a more classic looking stainless steel finish case and a leather strap.
The Active/Sport/Classic editions all have a case diameter of 46.5mm, which is chunky enough for slight wrists.
The other version, the Elegant, is a more discrete 42.8mm in diameter, more suited to those who don't want a very large device hanging from their arm.
The watch also has two navigation buttons to the right side – one for waking the watch and returning to the main menu, the other for app shortcuts. 
They are solid and responsive, although arguably they are a little chunky and protruding.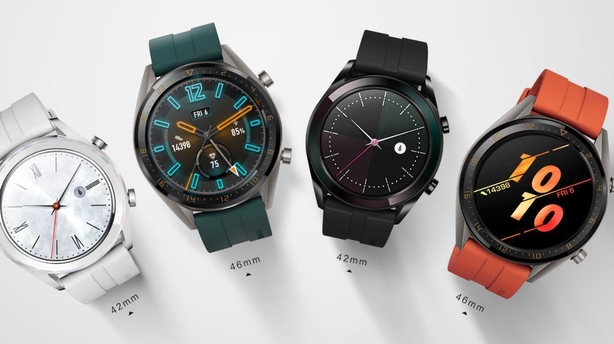 DISPLAY
The Active/Sport/Classic editions come with 1.39 inch AMOLED colour display.
It is bright and clear and there are quite a few customisable watch-face options to choose from, varying from classic to modern.
The display is a touchscreen which supports both slide and touch gestures.
But compared to the Apple Watch I found it far less responsive and pleasant to use.
It isn't always on and one thing it took a while to get used to was that you either wake the screen by twisting your wrist to look at it, or by pressing a button.
But unlike the Apple Watch and other smart watches, however, you cannot wake it by touching the screen itself.
PERFORMANCE
The chipset inside the Watch GT drives the device very smoothly. It hops from app to app quickly and without stuttering.
It also has a built in GPS, but no Wifi support.
It runs on Huawei's own LightOS software. It isn't bad as an operating system – clear and simple to look at, easily navigated – it works fine.
But the decision not use a more established operating system like Tizen or Wear OS does bring drawbacks – specifically limited functionality.
Loaded on the device are more than a dozen apps, most fitness oriented, like Workout, Heart Rate, Sleep etc.
I'm not a big fitness tracking user, but to the untrained eye the options within the Workout app seem comprehensive and include Running Courses, Outdoor Walk, Climb, Outdoor Cycle, Pool Swim, Open Water and Triathlon, amongst others.
There are also other useful(ish) options too like Notifications, Compass, Weather, Find My Phone etc.
But that's it pretty much. Third party apps aren't supported, nor are any form of payments, as there is no NFC embedded.
There is an accompanying phone app – Huawei Health – which allows you to alter settings and see some health and fitness data. But that's about the limit of it.
But what it lacks in functionality (and that's a lot) it makes up for in battery. The Watch GT has an astonishing battery life and lasts well beyond its peers.
When I unboxed it first, the device had 57% battery, which subsequently lasted five days.
A subsequent full charge lasted two weeks with light to moderate use.
That's really good. What's not so positive, however, is that there is no adapter in the box to allow you plug the charging cable into the mains.
CONCLUSION
The Huawei Watch GT isn't a bad smart watch.
It looks fine, does the basics well and comes at a reasonable price.
The battery is also knockout.
But it doesn't offer much more than rudimentary functions. 
Perhaps that's not a bad thing, considering the amount of pointless software other manufacturers and app developers offer on rival devices.
For some people, however, it won't be enough. They should look to the Apple Watch, Samsung Galaxy Watch, the Fitbit range, or beyond, although in many cases they'll pay more for those.
One thing to note is that right now, the Watch GT can't be bought here in Ireland by itself – it is only available as a free gift (it has a RRP of €199) with the Huawei P30 Pro.
It can be bought online on its own from abroad though for €149 from Amazon for example.
Comments welcome via Twitter to @willgoodbody