Ryanair remains confident in the Boeing 737 MAX and believes the plane will be "warmly welcomed" by customers, the airline's chief executive Michael O'Leary said today.
Michael O'Leary's comments come after he was forced to half the airline's 2020 growth plans due to the plane's grounding.
"While it is disappointing that we have delays, while it is disappointing that the growth for next year will be slightly slower than we had originally planned, we remain confident in the aircraft.
"We still think it is a great product," Mr O'Leary told a conference call with investors.
"As soon as we can reasonably organise these deliveries with Boeing we would intend to take all of the 135 firm aircraft we have ordered over the next five years," he said.
Earlier, Ryanair warned that it may have to cut and close bases at airports from November until next summer as it said delays to Boeing's B737 MAX aircraft would hit growth rates.
The group said it was in talks with airports over which loss-making bases will be affected and is set to consult with staff and unions over the planned "short-term" cuts and closures.
The airline also said today it was cutting its forecast for growth in traveller numbers next summer due to the possibility of further delays in deliveries of Boeing 737 MAX planes.
Ryanair cut its summer 2020 growth rate to 3% from 7%, which means full year traffic growth for the year to March 2021 will be cut from 162 million passengers to around 157 million.
The airline expects the grounded aircraft to return to service before the end of the year, with the first of new aircraft ordered by Ryanair to be delivered in January and February 2020.
But the exact date is uncertain and Ryanair has revised its summer 2020 schedule based on 30 incremental aircraft, rather than 58.
Ryanair is waiting to take delivery of the new MAX aircraft, which it can receive at a maximum rate of six to eight a month.
Boeing 737 MAX delays to hit Ryanair's growth plans pic.twitter.com/eTV78hJ1Wf

— RTÉ Business (@RTEbusiness) July 16, 2019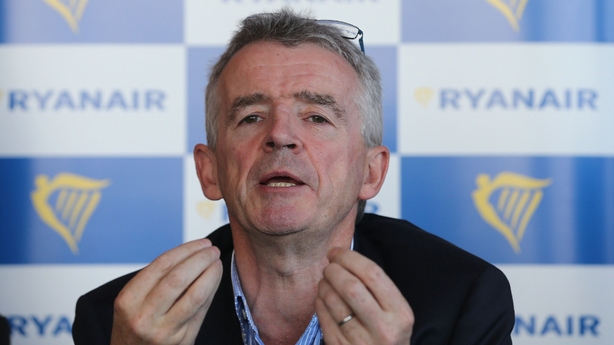 "Boeing is hoping that a certification package will be submitted to regulators by September with a return to service shortly thereafter," Ryanair's chief executive Michael O'Leary said in a statement.
"We believe it would be prudent to plan for that date to slip by some months, possibly as late as December," he said.
"As Ryanair have ordered the Boeing MAX200s, which are a variant of the MAX aircraft, these need to be separately certified by the FAA and EASA.
"Ryanair expects that the MAX200 will be approved for flight services within two months of the MAX return to service," Mr O'Leary added.
Mr O'Leary said the shortfall in aircraft deliveries will necessitate some base cuts and closures for summer 2020, but also for the winter 2019 schedule.
"We are starting a series of discussions with our airports to determine which of Ryanair's underperforming or loss-making bases should suffer these short-term cuts and/or closures from November 2019," the CEO said.
"We will also be consulting with our people and our unions in planning and implementing these base cuts and closures, which are directly caused by the B737 MAX delivery delays to the B737 MAX programme."
Mr O'Leary added he will look to "restore our growth to normal levels in summer 2021".
The airline said it hopes to receive its first MAX 200 aircraft sometime between next January and February.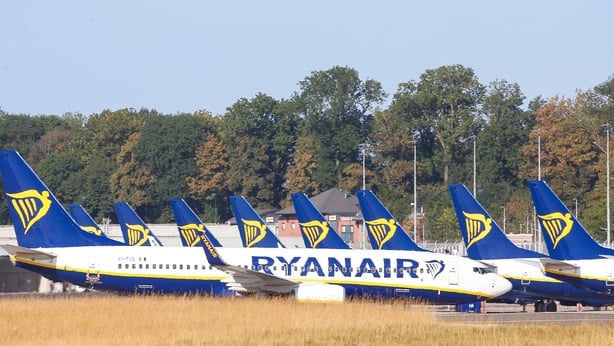 Since it can only take delivery of between six to eight planes each month, Ryanair said it was now planning its summer 2010 schedules based on taking up to 30 737 MAX aircraft deliveries up to the end of May 2020.
This is less than the 58 planes Boeing had originally scheduled to deliver for the airline's Summer 2020 schedule.
"This number could rise, or fall further, depending on when the 737 MAX actually return to flight services," the airline said.
Airlines count the cost of Boeing 737 MAX grounding
Ryanair operates a fleet of more than 450 Boeing 737-800 series aircraft and today stressed its commitment to the MAX plane.
The group currently has orders of up to 210 new Boeing 737 jets, including 135 MAX 200s and with options for 75 more MAX 200s.
Boeing's top-selling jet was grounded in March after crashes in Ethiopia and Indonesia that killed a total of 346 people.
The planemaker is working on a software fix that people close to the matter have said it hopes to present to regulators in September.
Ryanair shares climbed higher in Dublin trade today.
The stock has fallen about 4% so far this year, hit by over-capacity and intense competition in Europe's short-haul aviation market.