Communications company Eir has reported third quarter earnings of €147m, an increase of 7% year on year and in line with expectations.
Eir said its revenues for its fiscal third quarter to the end of March fell by 2% to €310m on the back of a decline in fixed revenue, which had been expected.
The company said its operating costs fell by 16% to €100m, while its balance sheet cash jumped by almost €110m.
During the third quarter, Eir said its broadband customer numbers rose by 2% to 941,000, while its total mobile customer numbers stood at 1.032 million.
It noted that 54% of its mobile customers have postpay contracts, while 27% of households now include mobile in their household bundles with Eir.
The company said it also saw continued growth in its TV and sport offerings, with its Eir Vision customers numbers up 6% to 79,000.
It also said it had a total of 304,000 Eir Sport users across all its platforms, a jump of 22% on the same time last year.
In today's results statement, Eir said it has now passed 1.9 million premises with high speed fibre technology.
It has also passed 337,000 fibre to the home premises, with 275,00 of these as part of its rural broadband rollout.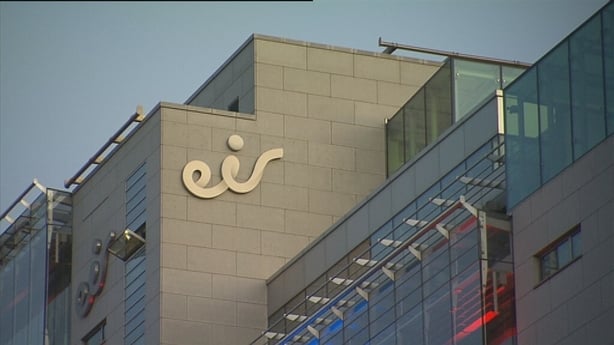 Last year, the company said it would bring its customer service back in-house, saying it believed that having customer-facing roles filled by direct Eir staff leads to a better experience for customers.
Eir said today that it had completed its insourcing programme and in the seven months since October, it has hired and trained over 445 new front-line staff across its three "care hubs" in Sligo, Cork and Limerick.
As part of its internal reorganisation, the company said it had also relocated over 1,000 staff from its corporate headquarters to its other locations in Dublin.
Carolan Lennon, Eir's chief executive, said the company continued to see substantial progress in the third quarter as it focused on its on-going mobile and fibre infrastructure investments.
She noted that Eir has invested €1.5 billion in the last five years in telecoms infrastructure in Ireland with another €1 billion committed for the next five years.
"Our significant network investments, coupled with our innovative products and services will ensure we offer the very best fixed and mobile experience for customers across Ireland," Ms Lennon said.