Two companies - Sprout Social and OpenSky - have announced the creation of new jobs in Dublin and Co Kildare.
Sprout Social, a social media management and engagement platform for business, has announced plans to add 60 more job to its Dublin workforce by the end of 2020 as it expands its operations in Europe and beyond.
The company currently has 42 staff members in its Dublin office, which it opened last year as its headquarters for Europe, the Middle East, and Africa (EMEA).
Sprout Social's Ireland-based clients include Paddy Power and Intercom, while over 4,000 companies across EMEA are serviced by the Sprout Dublin team.
Social media use continues to grow amongst Irish consumers with the fastest usage growth coming from Twitter, Instagram and LinkedIn.
Over €161m was spent in Ireland last year on social media advertising and marketing, an increase of 31% over the prior year, with strong growth expected to continue.
Sprout Social's founder and CEO Justyn Howard said that as the company ramps up its international presence, its Dublin office is going to become increasingly important as the gateway to the wider EMEA region.
"With nearly 30% of Sprout's revenue coming from outside the US, it is crucial for us to focus on supporting and growing our global customers, and Dublin will be the hub for those efforts," Mr Howard said.
Gerard Murnaghan, General Manager Sprout Social EMEA and Head of Sprout Social Ireland, said that despite already being an influential industry, social media marketing is still a sector in its infancy.
He said the company expects to see continued growth in the amount of time and money marketers invest in this area.
"By tapping into the significant talent pool which exists in Ireland, we plan to add 60 staff members in the next 2 years to ensure continued customer success in a booming market," he added.
Meanwhile, Co Kildare-based OpenSky has announced a €2.5m investment and the creation of 80 jobs, which will see the organisation double in size by 2021.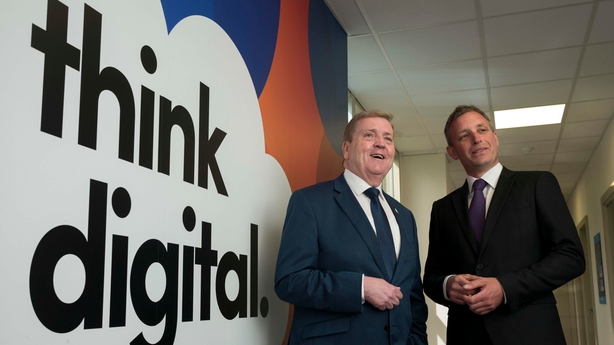 OpenSky is an IT and consultancy solutions company, which provides solutions and managed services to public sector bodies.
The company already has a workforce of 80 in Naas.
It has delivered major projects for 50 organisations in the sector, impacting 2.5 million people every day. The company's systems manage more than 100 million digital transactions every month between Ireland and the UK.
Its international and Irish customers include the Health Service Executive, the National Transport Authority, the Department of Business Enterprise and Innovation, North London Waste and Surrey County Council.
Michael Cronin, Managing Director of OpenSky, said that more and more public service agencies and government organisations realise how important it is for them to be able to boost productivity, deliver services and support citizens as directly and efficiently as possible.
"By transforming, they can not only streamline their own processes and optimise resources, but also enhance the citizen experience and create a digital government that works. In order to meet this increasing and evolving demand, we have invested in expanding our team and adding new services," Mr Cronin added.