OnePlus has revealed a range of new flagship smartphones as it bids to grow its market share in the face of stiff competition from bigger rivals.
The OnePlus 7 Pro's Quad HD+ AMOLED display is the most advanced smartphone screen in the market, according to the company, and will also be available in a 5G ready version.
The main rear camera has three lenses, including a 48MP sensor with Optical Image Stabilisation, an 8MP 78mm telephoto lens and a 16MP ultra-wide angle option. It also has a 16MP front facing camera.
"We constantly challenge ourselves to give people the best experience possible," said Pete Lau, founder and CEO of OnePlus in a statement.
"A great user experience means freedom, and should enhance your life instead of distracting you from it. I'm so proud of what we've built with the OnePlus 7 series, and can't wait for people to try out the display."
Founded in 2013, Chinese based OnePlus has been gradually building a share in the highly competitive smartphone market, taking on much larger manufacturers like Apple, Samsung and Huawei.
The OnePlus 7 Pro is powered by the latest Qualcomm Snapdragon 855 processor, coupled with between 6GB and 12GB of RAM.
A RAM Boost system learns from usage habits and allocates available RAM to memory-intensive applications, the firm says, leading to faster app loading times and allowing more apps to remain open at one time without dragging down performance.
OnePlus has also improved the screen unlock system, bringing the time down to 0.21 seconds.
The phone has a 4,000mAh battery as well as "Warp Charge 30", which allows a 0-50% charge in 20 minutes.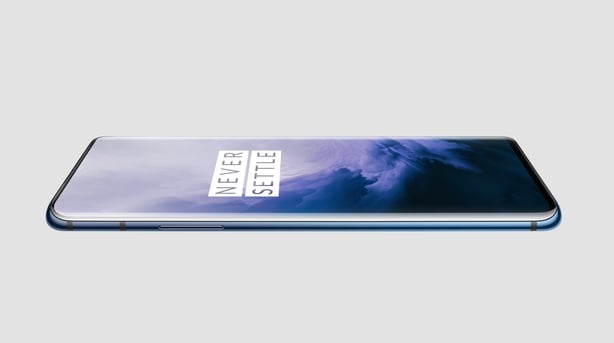 With a curve-edged display the device has similar looks to rival devices like the iPhone Xs and Samsung Galaxy S10+.
The 6.67 inch screen has an aspect ratio of 19.5:9, and can handle HDR10 and HDR10+.
The main camera system is powered by the new OnePlus UltraShot engine and also has a new three-pronged autofocus system.
The company also announced the smaller OnePlus 7 which has the same processor, speaker system, screen unlock and RAM boost technology as its big brother.
However, it lacks other features and its main camera only has a dual lens set-up.
While the OnePlus 7 Pro 5G will offer fifth generation mobile connectivity.
The devices go on sale from tomorrow from pop-up shops across Europe, online and through partners, with prices for the Pro model starting at €699.