Apple remains the country's biggest company with sales of €119 billion, the latest Irish Times Top 1,000 Companies survey shows.
Apple dominates the survey for the second year in a row as it puts all its sales outside of the US through its Irish operations.
Even though it has been a difficult few years for some of the leading tech companies, the survey shows that Google and Facebook continue to thrive here.
Google's Irish operations grew by over 20% last year – up from €26 billion to €32 billion - which saw it push Ireland's leading indigenous company, CRH - a previous holder of the top spot - into third place with sales of €27 billion.
After making the top 10 for the first-time last year, Facebook rose from 9th to 6th place with turnover of €18.7 billion.
But revenue fell back slightly at Microsoft, pushing it from 5th to 7th position in the 2019 rankings.
Apart from CRH, the only other indigenous Irish company in the top 10 is DCC in eighth position.
The rest of the top 10 being is made up of global companies which moved their international headquarters to Ireland in recent years.
Overall, the Top 1,000 companies reported gross sales of €686 billion, up 10% on last year's survey. This is over twice Ireland's GDP for 2018 of €319 billion.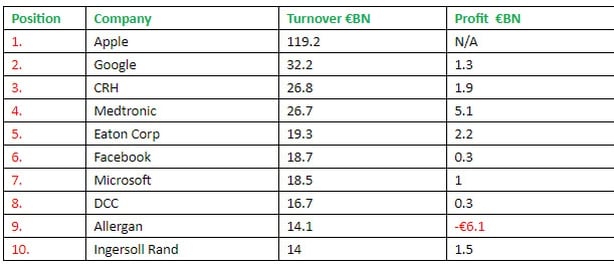 Meanwhile, Medtronic - Ireland's fourth largest company - was the most profitable company in the country for the fourth year in a row with profits of some €5 billion last year. The vast majority of these profits were generated elsewhere as the company has its global headquarters in Ireland.
The Central Bank again took the number two spot with profits of €2.6 billion, although the regulator did say it expects profits to decrease over time.
The only other Irish entrants on the list were CRH, 6th with profits of €1.8 billion and AIB, 10th on profits of €1.25 billion.