The Canadian aircraft manufacturing company Bombardier has announced plans to sell its aerostructures business in Belfast.
The company said it wants to combine its corporate and regional jet units into a single aviation unit and shed more non-core assets by selling off its Belfast and Morocco businesses.
Bombardier is one of the biggest employers in Northern Ireland, with a large base in east Belfast and a workforce of about 3,600.
The announcement came ahead of Bombardier's annual general meeting today.
Unions representing workers at the company said they had no advance warning of the move, as they met in Belfast to discuss their response.
It is understood that senior executives from the company spoke to Northern Ireland's main political leaders before making its decision public.
In a statement, Bombardier said: "We understand that this announcement may cause concern amongst our employees, but we will be working closely with them and our unions as matters progress, and through any future transition period to a new owner."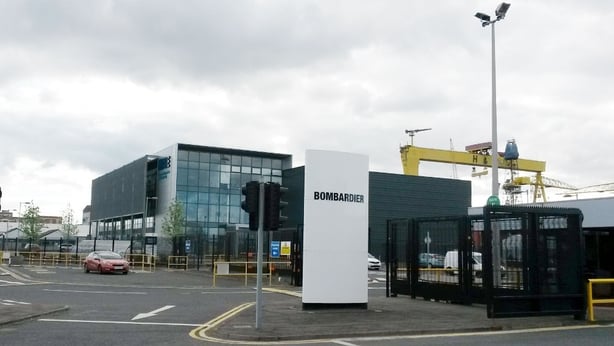 The plane and train maker is expected to face pressure from sceptical investors about whether its turnaround plan is still on track as its transportation division grapples with delayed rail contracts.
Investors were rattled last week when Bombardier lowered its first-quarter and full-year revenue targets for the transportation division, its largest unit.
This raised concerns over whether it will still meet its 2020 targets of boosting margins and generating $20bn in revenue.
Bombardier said in a statement it was making steady progress in managing the "challenging legacy projects" and will take a few more quarters for completion.
The company posted first-quarter revenue and profit in line with its preliminary results announced last week and reiterated its lowered guidance. 
Bombardier said it will focus its aerostructures activities in Montréal, Mexico and its newly acquired Global 7500 business jet wing operations in Texas. 
The rail division, which is expected to generate $10bn next year, is crucial to Bombardier's five-year turnaround plan, after heavy investment in aircraft production drove it to the brink of bankruptcy in 2015. 
Bombardier's surprise decision to slash its full-year revenue forecast by almost 8% to about $8.75bn was blamed largely on five delayed contracts, mostly in Europe.
#Bombardier today announced the consolidation of its aerospace assets into a fully integrated Bombardier Aviation business unit, to better support our customers and generate value for shareholders --> https://t.co/XOEGAVMvoP pic.twitter.com/gus8ZzouUz

— Bombardier Inc. (@Bombardier) May 2, 2019
Staff fearful about company's future - union
Meanwhile, Unite workers union in Northern Ireland has called on the UK government to put pressure on Bombardier to retain its aerostructure division if no buyer is found for its plants in Belfast.
Speaking on RTÉ's News at One, the union's Northern Ireland Regional Officer Susan Fitzgerald said its members are fearful of the uncertainty following today's announcement by the company.
Ms Fitzgerald said that fundamentally if it comes down to losing almost 4,000 jobs from the NI economy and the UK government needs to intervene to secure the jobs.
She said that Unite had already spoken to the UK's Secretary of State for Business, Energy and Industrial Strategy Greg Clark to request the government lever pressure on Bombardier.
This should focus on what will happen if there is no buyer at the end of process, she said.
Ms Fitzgerald said the four plants should represent an attractive proposition for a buyer as it has a "world class workforce" in cutting edge industry.
She said if a situation arises where someone buys the plant and invests in it and expands it and secures the future, they will be happy as long as members' jobs are secured and skills are retained in Northern Ireland.
Ms Fitzgerald said that four sites are affected, especially work on the A220, which is the flagship programme.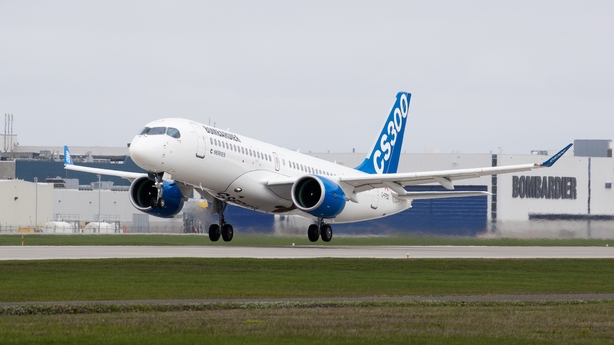 Bombardier has faced challenges in recent years, including posting a series of losses and announcing redundancies.
Around 1,000 jobs were lost at the Belfast plant in 2016 as part of a global restructuring.
Last November there was shock as the firm announced plans to cut 5,000 jobs across its global operations, including 490 in Belfast, after reviewing its "manpower requirements".
Bombardier also found itself at the centre of a high-profile trade dispute with rival Boeing in the US over its C-Series jet project.
Threatened US trade tariffs placed a major question mark over aircraft production in Belfast and prompted the intervention of British Prime Minister Theresa May.
The US administration relented at the last moment and Bombardier jobs were saved.
Additional reporting Reuters and PA