Bank of Ireland has defended its charges and fees where customers pay one cent per contactless card payment and ten cents for chip and PIN transactions.
Representatives of the bank are before the Oireachtas Finance Committee this afternoon.
Sinn Féin's finance spokesperson Pearse Doherty asked: "How can Bank of Ireland justify charging 10 cents for every transaction on a visa debit card?"
Gavin Kelly, CEO of Bank of Ireland's Retail Ireland division, said the current pricing on current accounts was introduced three or four years ago.
He said: "We charge one cent for our contactless transactions and 10 cent for a visa debit transaction at point of sale that is not contactless. And up to a branch transaction, a teller transaction which costs 60 cents. We believe in the round the service we provide for those transactions in that mix, represents very good value."
He said that on average a current account customer would pay about €60 for that service per year.
He said that about 50% of the bank's personal current account base do not pay those transactions at all.
But Mr Doherty said it is a "hidden charge" whereby a customer pays 60 cents for a cup of tea but using a chip and PIN will transaction will cost 70 cents.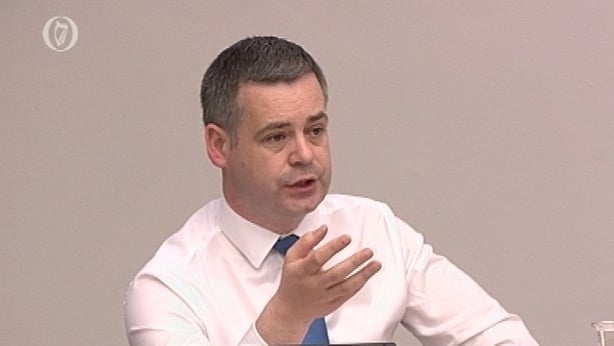 He said that if a Bank of Ireland customer has €3,000 in their account they are not going to be charged at all. So the people being charged the 10 cent are those who are less cash rich, those who are more vulnerable in our society and they are being gouged every time they go and buy a newspaper and use their debit card to do so."
Mr Doherty asked for clarity whereby it cost one cent for a transaction paid for by tapping a bank card and ten cent for putting in the card and using a PIN.
When Mr Kelly confirmed that is the case, Mr Doherty asked how the bank can charge ten times more for the same transaction just because you have entered your PIN instead of tapping it?
Mr Kelly said he would prefer to look at the total cost of banking and said Bank of Ireland provides a service to their customers for the price of €60 per year or €5 per month which is very good value as it provides 24/7 access for customers.
Mr Kelly did say that the bank has the package of fees charges under review at the moment.
He said the service introduced a few years ago "represents very good value for our customers".
Mr Doherty replied "It's definitely good value for Bank of Ireland because you made €431 million on the back of fees and charges last year."
The bank's Chief Executive also told the committee that the lender would support the normalisation of bankers pay along European banking authority guidelines.
Francesca McDonagh said that at the moment there are restrictions around variable pay based on performance at every level.
She said the restrictions in place are leading to higher than normal levels of attrition in certain positions and are causing the recruitment process to take longer than it should.
The bank boss said the issue is not just about top level executive pay, as variable pay can be used to drive accountability and encourage the right behaviours that are customer focused at ever level of the organisation.
She said the cap was making it very difficult for the bank to compete for talent to fill specialised roles, particularly against Silicon Dock-type companies, but also other banks and financial services firms competing here.
Ms McDonagh also said that the restrictions are preventing Irish banks from competing on a level footing with other banks in Ireland and other sectors.
She said her organisation has also seen more attrition in certain specialist roles and has found that the recruitment process is taking longer.
This, she added, can impact on customer service and the implementation of strategy.
Bank of Ireland would like to be able to vary pay based on their performance of driving customer outcomes she said, although she added that she recognises the issue is divisive.
Asked about the Sinn Fein No Consent No Sale Bill, which seeks to force banks to get consent from borrowers before selling loans to vulture funds, Ms McDonagh said it would ultimately be bad for the consumer.
She said it would reduce availability of capital which could otherwise be used to support borrowing and this would be bad for the consumer, sector and Irish economy.
The proposals, if enacted, would also act as a disinectivise to competition in the market she added.
This would all happen without any net improvement to consumer protection, she stated, as the same protections exist no matter who owns the loan.
On the issue of reducing non-performing loans, Ms McDonagh said she couldn't rule out the possibility that some owner occupier mortgages could be sold in the future to get them off the bank's balance sheet.
The bank's CEO said the institution has no policy on selling owner occuper loans, is looking at all options to get the bad loans level down to 5% by the end of the year and that could include sale of portfolios of different types.
Regarding the tracker mortgage controversy, Ms McDonagh said that in the bank's own internal review of what led to it, no individual had been identified or named or blamed for the issue.
She added that the Central Bank is doing a review of the matter and the regulator may have a different perspective on naming individuals when that is complete.
On the government's Help to Buy scheme, Head of Products at the bank, John Beirne, said it has had a positive impact on the market and the lender would welcome any extension to it.
Ms McDonagh said the bank estimates that it will be 2030 before the deferred tax asset, which allows it to right its tax bill off against historic losses from the crash, will run out.
(Additional reporting Will Goodbody)