Independent News and Media has reported lower revenues and profits for the year to the end of December, but said it was continuing to make progress in implementing its new strategy.
INM said its pre-tax profits for the year came to €24.1m, which was ahead of expectations but over 15% lower on the previous year.
Revenues for 2018 fell by 2.1% to €191m on the back of a decline in total advertising revenues of 8.8%, a decline in circulation revenues of 6.3% and a decline in commercial printing revenues of 6.2%. 
Within total advertising, publishing advertising revenues fell by 10.8% and digital advertising revenue slipped by 1.7%. 
INM said its distribution revenue rose however, increasing by 26.5% on the back of two acquisitions completed during 2018. 
The company's digital revenues fell by 1.7% last year, as INM said it had moved its digital advertising model towards a lower yield programmatic selling one. 
But it did report continued growth in its classified businesses, specifically CarsIreland.ie, where revenues grew by 18.2%.
INM said its directors are not proposing a dividend for 2018.
In today's results statement, INM said it had taken a charge of €3.5m for exceptional legal costs to meet its obligations towards the Office of the Director of Corporate Enforcement and the Data Protection Commissioner in their respective investigations into an alleged data breach at the firm.
It said it was co-operating with the inspectors and the DPC in their respective investigations.
Michael Doorly, Group CEO, said the results for 2018 clearly illustrate the rapid change taking place in the media industry and the significant and unique challenges facing INM. 
"Despite the many difficulties we faced throughout 2018, the Group recorded profits before tax of €24.1m for the year, while our cash balance remained strong at €81.7m at year end," Michael Doorly said.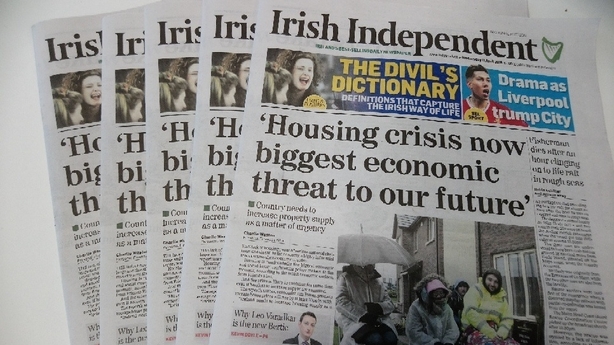 He said that change is happening right across the sector, which is facing the challenges of digital disruption, changing consumer behaviours and economic shifts, but added that INM is moving forward in reshaping the business to better meet the needs of its print and online readers and customers.
"Producing quality content remains essential to the future of our business and to that end the calibre of our editorial team is unmatched in the Irish market," he added. 
The company recently said it would cut approximately 30 jobs in its editorial, publishing and commercial operations. 
INM shares moved higher in Dublin trade today.