Aer Lingus has reported an operating profit was €305m for 2018, a record performance for the airline and an improvement of 13.8% (€37m) over last year. 
The airline's capacity increased by 10% as a result of new routes including new services to Philadelphia and Seattle in the US. 
Passenger revenues for the year were up 8.6% to €1.952 billion.
However, its passenger unit revenues decreased by 1.2% during the year, while its fuel unit costs rose by 9.8%. 
Aer Lingus said it achieved significant cost savings through efficient growth with higher productivity and from cost initiatives. This included areas such as procurement and handling. 
Sean Doyle, the Aer Lingus chief executive, said the carrier maintained its progress on its ambitious growth strategy while it continues to focus on the need for competitiveness.
"Our ambition for the future is underpinned by a profitable, sustainable short-haul network supported by our guest-focused brand and digitally-enabled value proposition, Mr Doyle said. 
"Today's results demonstrate our ability to grow profitably and sustainably.
"Our model has delivered growth in our business, boosted traffic, created new jobs and driven tourism growth, particularly from North America over the past number of years," he added.
The CEO noted that Aer Lingus has almost doubled its North American transatlantic capacity from Dublin over the past five years and it will have a record 2.59 million seats between Ireland and North America this year. 
Aer Lingus reports record profits for 2018 on higher capacity pic.twitter.com/BZbg972qar

— RTÉ Business (@RTEbusiness) February 28, 2019
He said the airline's transatlantic growth has had a very positive impact on the wider Irish economy through tourism with more North American visitors coming to Ireland, bringing over €1.5 billion into the country.
"We continue to invest in new aircraft to underpin our expansion, and of course in our people with hundreds of new cabin crew, pilot and ground positions created to keep pace with new aircraft and new routes," Mr Doyle added.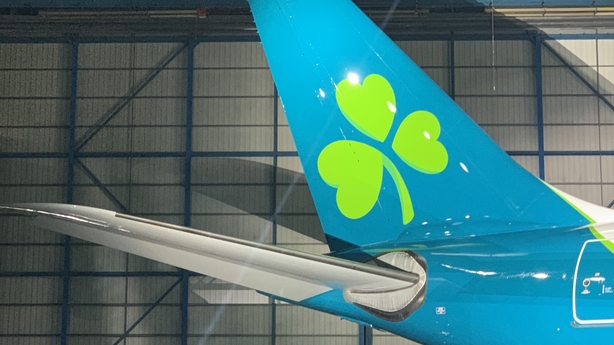 Last month, Aer Lingus unveiled its new brand livery, more than two decades since the airline's last refresh. 
The update aims to give the brand a more modern and fresh image as the airline continues its expansion into the North Atlantic market.  
The changes included a new version of the shamrock logo and new paint for the aircraft.  The website and app also carries the new look, as well as passenger check-in areas and boarding gates. 
Meanwhile, IAG - the parent group of Aer Lingus - also today reported higher revenue and profits for 2018. 
In its results for the 12 months to the end of December, IAG - which also owns British Airways, Iberia and Vueling - reported profit after tax and exceptional items of €2.9 billion, an increase of 11% on 2017.
Its chief executive Willie Walsh said the possibility of flights being grounded at the end of next month when the UK is due to leave the European Union has been ruled out.