Permanent TSB has reported a 45% jump in pre-tax profits, before exceptionals, for 2018 as its total new lending volumes increased by over 40%.
The bank said its pre-tax profits, before exceptionals, climbed to €94m, while its total new lending volumes amounted to €1.5 billion. 
It said its non-performing loans reduced by 68% from €5.3 billion in 2017 to €1.7 billion in 2018 and its NPL ratio now stands at 10% from 26% at the end of 2017. 
This is still below the European average, however.
Permanent TSB said its NPL ratio is expected to continue to reduce towards a "mid-single" digit in the medium term.
The bank completed two controversial loan sales - Projects Glas and Glenbeigh - which related to more than 16,000 mortgages during the year. 
Permanent TSB, which is still 75% owned by the state, said it now has a 15.1% share of the residential mortgage market, up from 12.6% in 2017. 
Permanent TSB says still work to do on non-performing loans pic.twitter.com/R9zI8FnpWP

— RTÉ Business (@RTEbusiness) February 27, 2019
The lender's net interest margin - the difference between the average rate at which it funds itself and lends on to customers - fell marginally to 1.78% from 1.8%. 
The bank's chief executive Jeremy Masding said that as the bank moves into 2019, notwithstanding the geopolitical uncertainties mainly caused by Brexit, it remains positive.
"We believe we have a clear vision and strategy, and we are on the right path towards building an organisational culture that will deliver sustainable shareholder value and right customer outcomes," Mr Masding said.
Permanent TSB said it will invest savings from non-recurring projects into improving its digital business, a plan that analysts said will slow earnings recovery at the lender.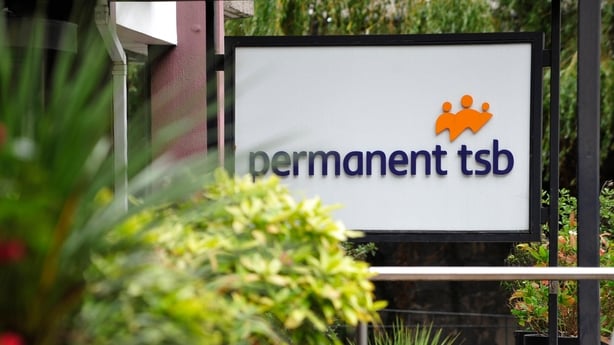 The bank said its operating expenses are expected to remain broadly flat again this year.
It outlined plans to use savings to improve its digital offering and infrastructure and catch up with larger rivals Bank of Ireland and AIB, who have embarked on major investment projects. 
Analysts at Davy Stockbrokers said in a note that the digital investment - together with the lower European Central Bank interest rate outlook - would slow the bank's earnings recovery.
The chief executive of Permanent TSB has expressed concern about legislation being proposed by Sinn Fein that would require customer consent before mortgages could be sold to so-called 'vulture funds'.
Jeremy Masding said the bank is a regulated business and continues to work within the regulated framework. But he said any changes to that environment would have to be done with care. 
"Interventions like that need to be thought about very carefully in terms of the long-term consequences, for both the customers, but also for the ability of banks to operate a functioning business model," he told RTE News.
"I just hope the debates are done in a holistic sense."
Mr Masding also urged caution around Fianna Fáil proposals that would impose a cap on variable mortgage rates. 
"Intervention in the capital markets, interventions in the banking business model is something that needs to be thought about very, very carefully because I always worry about the unintended consequences," he said.
"For example the confidence of the capital markets in Ireland, our ability to raise funding, our ability to source capital, and if that is curtailed the knock-on impact for new customers is actually something we all need to be very cognisant of."
In relation to whether he expects interest rates to begin rising soon, Mr Masding would not be drawn.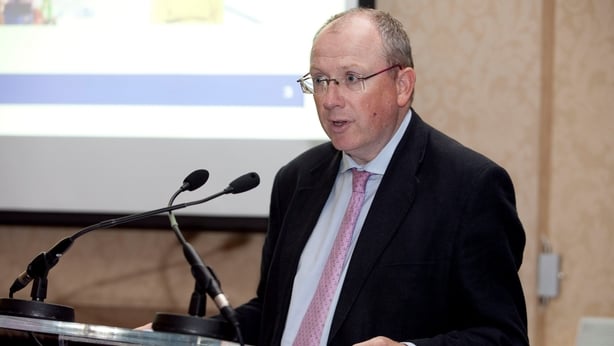 "We are a play on interest rates, and eventually interest rates will begin to rise. I don't have a crystal ball as to when that will happen, but when it does PTSB is very positively leveraged to a rise in interest rates," the CEO added.
"We keep our rates under constant review. For me the key principle is I just want to make sure we are providing compelling propositions for customers. 
"So instead we are giving customers a choice, because as you know it is very important that there is competition in the retail banking space and we are providing that," he added. 
Asked if he thought the cap on banking executive's pay should be lifted, Mr Masding said there is a need for a modern reward system so that the bank can compete for the very best people. 
"It certainly creates an operational risk for a covered bank such as Permanent TSB. It would be fair to say that retention is a challenge and I think it would certainly help me enormously if there was a modern reward system, but with the appropriate controls because we can't have the sort of risk frameworks that led to the collapse of the Irish banking system." 
Mr Masding also said that there had been no increase in the number of customers it had identified as being impacted by the tracker controversy.
He said 1,983 customers had been offered redress and compensation, 5% of the 40,000 across the banking industry.
He added that this was 5% too many. 
"We continue to build our risk and control environment to make sure our mindset is about right customer outcomes, because something like that should never happen again," he said.
He also said he expects the bank will be fined by the Central Bank over the tracker mortgage issue. 
Regarding Brexit, the PTSB chief executive said the bank has a business model which is focused on the Republic of Ireland. 
As a result, he predicted that the immediate impact would pass the bank, and that it may be impacted instead by the second wave.
He added that the bank is taking contingency measures and is staying in close contact with customers to make sure it can help them where it can.
Mr Masding also did not rule out further job cuts at the bank, where the numbers of employees have fallen by 250 as part of the restructuring. 
The CEO said the banks has to continue to manage its cost base and will continue to evolve its business model over time and that would include considering the right mix of labour.
Shares in the bank were lower in Dublin trade today.