Bank of America has spent around $400m on preparing for Brexit, which has seen the bank move some operations from London to Dublin and Paris.  
Speaking in Dublin today, its vice chairman Anne Finucane also said the decision to reorganise its business would not now be reversed, even if Brexit did not happen. 
"[It has cost] hundreds of millions; maybe $400m," she told the European Financial Forum, which is being hosted by the Financial Times and IDA Ireland in Dublin today.
"Multiply that by the number of financial institutions doing the same and it adds up," the banker said. 
As part of its Brexit preparations Bank of America last year named Dublin as its new European banking headquarters and Paris as its European trading headquarters. 
That has seen $50 billion in assets shifted to Dublin, with around 800 people set to be employed here. The bank's headcount in Paris is set to hit around 500. 
Ms Finucane said some of those jobs have come at the expense of its London offices. 
"They will diminish somewhat what we'll have in the UK," she said. "It's not pluses across the board, it means a reduction in the UK offices."
She also said that the move to Dublin was now set in stone and would not be reversed regardless of how Brexit ends.
"Dublin is our headquarters for our European bank now - full stop," she stated. 
"Even if there were no Brexit, that has happened, there isn't a return there. The bridge has been pulled up on that," she added.
Anne Finucane said that while it was a similar story for its trading arm, that business would be more dependent on where its clients want to trade.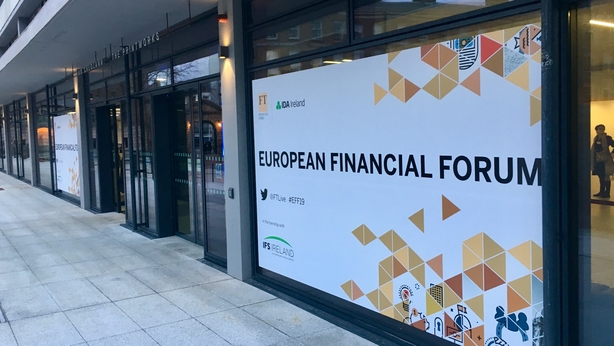 Also addressing the conference, Clare Woodman, Head of EMEA and CEO at Morgan Stanley and Co International said the company is well placed for whatever happens at the end of March. 
Ms Woodman said it was tough on people to continue to work under such uncertainty. 
But she said that to the extent one can plan, the system has done the best that it can, adding that all banks have had to spend to prepare. 
In terms of what it has cost Morgan Stanley to do so, she said the bank is funding what it needs to do in terms of moving people and ensuring it can service clients in the European Union after Brexit