Irish imports fell by €752 million (-9%) to €7.32 billion between October and November, while exports were €247 million (-2%) lower at €11.9 billion.
This meant the country's trade surplus rose by €505 million (+12%) to €4.58 billion at the end of November.
New preliminary figures from the Central Statistics Office also show medical and pharmaceutical products accounted for almost a third of all Irish exports in November, increasing by 31% to over €4 billion since November 2017.
Meanwhile, exports of organic chemicals increased by €539 million (+28%) to €2.5 billion during the month and accounted for 19% of total goods exports.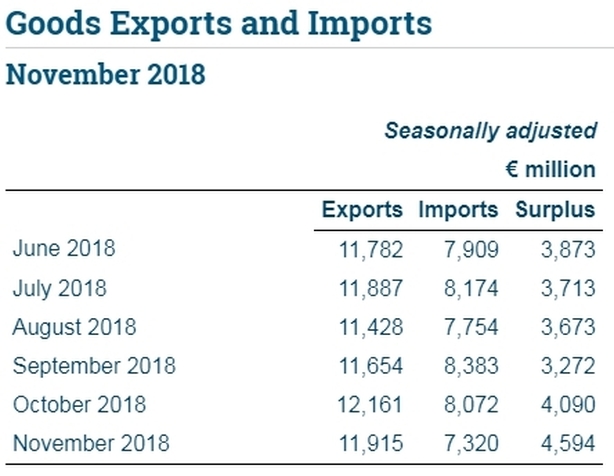 Exports to Great Britain accounted for 10% of total exports in November, with the most significant categories being chemicals and related products (€463 million) and food and live animals (€393 million).
Imports from Great Britain comprised 22% of total imports during the month, with mineral fuels, lubricants and related materials (€397 million), and machinery and transport equipment (€323 million) the biggest categories.
The EU accounted for almost half of all Irish exports last November, while the United States was the main non-EU destination accounting for €3.86 billion (30%) of total exports during the month.
Chief Economist with Merrion Capital Alan McQuaid says the latest CSO trade balance figures are "better than expected".
Mr McQuaid added: "Business and consumer confidence have been dented to some degree, though not in major way by the uncertainty surrounding 'Brexit'.
"The movement in the euro/sterling exchange rate will be critical in this regard going forward. The pound has been volatile in recent months, and remains a lot higher than desirable for Irish exporters.
"Positive vibes coming out of the UK and Brussels as regards the 'Brexit' negotiations will be required if the pound is to regain lost ground and see a sustained appreciation against the euro, but that still doesn't appear to be forthcoming at this juncture."