Irish exports to Great Britain fell by 5% to €1.3 billion in September when compared with the same month last year, as companies here continue to make efforts to reduce their dependency on the British market ahead of Brexit.
New figures from the Central Statistics Office also show exports to Great Britain accounted for 11% of total Irish exports in September.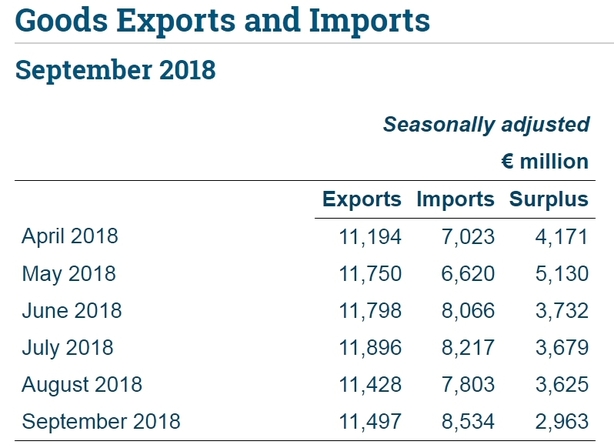 Food & live animals remains the Irish export sector most dependent on the British market, with €352m in such goods sent from Ireland to Britain during September.
However, imports from Great Britain for the first nine months of this year were 4% higher than for the same timeframe last year, reaching €13.1 billion.
---
Read more
Exporters give cautious welcome to Brexit developments
---
State agencies such as Enterprise Ireland and Bord Bia have been encouraging and assisting Irish companies to seek out new export markets to help reduce their dependency on the UK ahead of an uncertain trading future.
Meanwhile, imports from Britain accounted for 18% of Ireland's total imports in September.
During the month British imports to Ireland rose by €8m (0.6%) to €1.47 billion when compared with the same month in 2017.
According to the CSO, exports to Northern Ireland between January and September rose by €40m to €1.49 billion on a year earlier, while imports from the country to Ireland over the same period were €53m higher at €1.075 billion.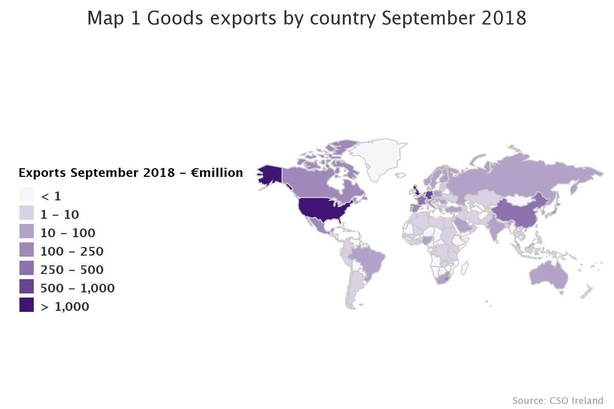 Overall in September, imports into Ireland during September increased by 9% to €8.5 billion on a monthly basis.
The European Union accounted for over half of all Irish exports in September, with the US accounting for 30%.
Meanwhile, 60% of Irish imports came from the EU during the month.