Amazon.com is planning to split its second headquarters evenly between two cities, people familiar with the matter have said.
Dallas, Long Island City in New York and Arlington near Washington, DC are all among the finalists with which Amazon is holding advanced talks, one of the people said on condition of anonymity. 
The person would not confirm which two are expected to win or if any others remain in the running. 
Amazon declined to comment on the news, first reported by the Wall Street Journal. 
The world's largest online retailer sparked a bidding frenzy in September 2017 when it announced it would invest over $5 billion to create an "HQ2" in addition to its home base in Seattle and hire up to 50,000 people. 
One of the major reasons for the decision was for Amazon, which has satellite operations around the world, to recruit top talent. 
Offering a choice of head offices could help it win new workers in a battle with Alphabet's Google and others, with which Amazon competes in areas such as cloud computing and voice-controlled technology. 
The HQ2 split also could help Amazon ease the same degree of congestion and jump in costs of living that led to unrest in Seattle. 
An affordable housing crisis there prompted the city council to adopt a head tax on businesses in May, which Amazon helped overturn in a subsequent city council vote. 
It was unclear what incentive packages were offered to Amazon.
New Jersey early in the contest proposed $7 billion in potential credits against state and city taxes if Amazon located in Newark and stuck to hiring commitments. 
On Monday, New York Governor Andrew Cuomo said the state was in talks with Amazon. 
"We have a great incentive package," which was not "crazy" like other states' offers, he said, according to audio from WCBS 880 Radio.
"I'll change my name to Amazon Cuomo if that's what it takes," he said.
Amazon drops free-shipping minimum in race for Christmas sales
Amazon.com said it would offer free shipping in the US with no purchase minimum for the first time this holiday season, heating up the competition with Walmart and other rivals vying for customers' Christmas shopping. 
The US-only promotion, effective from November 5, waives the $25 minimum that customers outside Amazon's Prime loyalty club must hit for free shipping. 
The deal lasts until Amazon can no longer promise items in time for Christmas with free delivery, which typically takes five to eight business days. 
The company's shares fell more than 3% following the announcement. 
Analysts said the offer could shave 5-6% off Amazon's operating profit this quarter.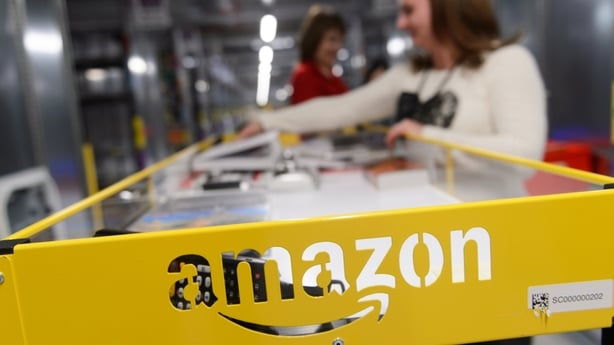 But the news could help Amazon win more sales. That is important for the world's largest online retailer since a revenue slowdown it forecast last month spooked some investors and sent its stock tumbling. 
The current quarter typically is Amazon's biggest. 
Amazon cut its order minimum for free shipping to $25 from $35 indefinitely in May 2017. 
The move will add to pressure on Walmart and Target, which in recent years have chipped away at Amazon's lead with their own offers of free two-day shipping. 
While Walmart has maintained its $35 order threshold this holiday, Target has scrapped its minimum until December 22.
Just over half of all US households have a Prime subscription, analysts estimate. 
Prime remains the cornerstone of Amazon's business because shoppers buy more from the retailer once they pay $119 for the year-long membership. Perks include same-day shipping and video streaming. 
Amazon is now courting those outside the club, hoping its brand and wider selection will set it apart. 
Free shipping can apply to hundreds of millions of items on Amazon, versus hundreds of thousands on Target. Target, however, promises to deliver the items more quickly. 
Amazon last month touted improvements in efficiency, which could help it offset costs from more free deliveries. 
According to the Seattle company's latest annual filing, shipping costs nearly doubled from 2015 to 2017, reaching $21.7 billion.