Ryanair has today reported a 7% fall in profit during its key April-September season, citing higher fuel costs and damage to bookings caused by strikes.
The airline also said that European short-haul airfares would remain soft this winter.
Ryanair three weeks ago cut its forecast for full-year profit by 12% and warned that worse may follow if a recent wave of pilot and cabin crew strikes across Europe continue to hit traffic and bookings.
Europe's largest low-cost carrier has struggled with labour relations since it decided to recognise trade unions for the first time last December.
It said it hoped to finalise more union agreements in the coming months but could not rule out further industrial action.
Shares of Ryanair, which is also counting the cost of stubbornly high fuel prices, closed on Friday at €11.51, down 20% compared to three months ago and down 40% from a peak of €19.39 in August last year before its staff problems emerged.
Ryanair shares closed 4.1% higher in Dublin trade today.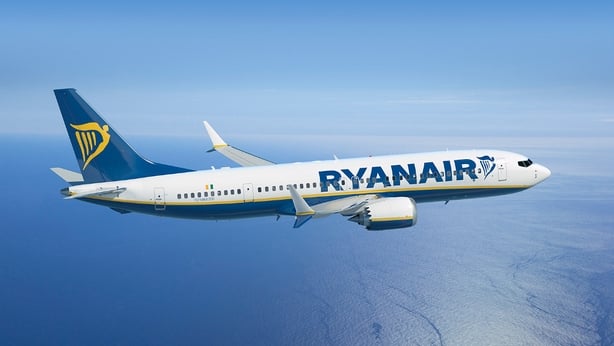 Ryanair, which traditionally makes most of its profit in the summer, reported a profit of €1.2 billion in the six months to the end of September 30.
It reiterated its full-year profit forecast of between €1.1 billion and €1.2 billion.
That would represent a 17-24% fall from the record €1.45 billion post-tax profit booked in its most recent financial year to March 31.
A poll of over 10 analysts by Ryanair ahead of the results found an average forecast of €1.127 billion for the full year and €1.175 billion for the six months to September 30.
The airline also today reported revenues of €4.8 billion for the six month period, up 8% on the same time last year and said it carried 76.6 million passengers.
"This full year guidance remains heavily dependent on air fares not declining further - they remain soft this winter due to excess capacity in Europe - (and) the impact of significantly higher oil prices on our unhedged exposures," Ryanair CEO Michael O'Leary said in today's results statement.
But he said Ryanair's cost advantage over rivals is widening and "over the medium term, consolidation will create growth opportunities for Ryanair's lowest fare/lowest cost model."
Michael O'Leary also said that the risk of a hard 'no-deal' Brexit in March 2019 is rising.
"While we hope that a 21-month transition agreement from March 2019 to December 2020 will be implemented (and extended), we remain concerned that the time to complete such an agreement is shortening," he said.
"In the event of a hard Brexit our UK shareholders will be treated as non-EU. In such an event the board will restrict the voting rights of all non-EU shareholders (and confine them to selling shares only to EU nationals) to ensure that Ryanair remains majority owned and controlled by EU shareholders," he said.
"We have applied for a UK AOC to protect our three domestic UK routes and are on track to receive it before the end of 2018," he added.
Ryanair's chief executive said the airline hopes to reach deals with all of its major unions by Christmas, in a sign an end may be in sight to disruptions which have hit its profit and shares.
"Given the adverse environment that's out there for airlines and the number of job losses being reported in recent weeks both by pilots and cabin crew, there is a much more sensible, common sense approach being taken by the unions," Michael O'Leary said in a video presentation today.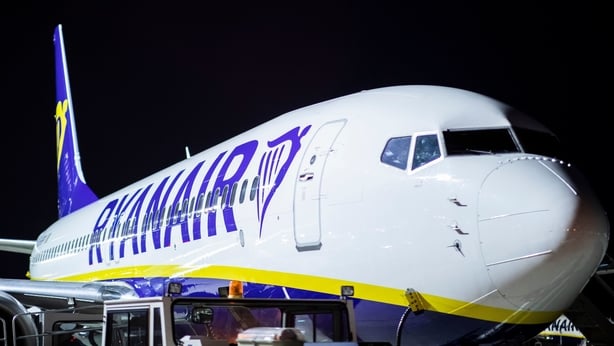 Michael O'Leary said that recent progress in talks left Germany and Belgium as the only two large markets for the airline where recognition agreements had not been secured.
"We would be hopeful of concluding agreements with them this side of Christmas," he added.
A spokesman for Belgium's LBC-NVK union said it was waiting for an offer from Ryanair on Thursday and had warned the airline they could strike again if there is no progress.
A spokesman for German unions VC said he saw "no real progress" in talks with Ryanair, which also needs to secure recognition deals in the Netherlands and Sweden.
On Friday it said it had reached agreement with British, Portuguese and Italian pilots and was close to a deal with Spanish pilots, although the British union said the deal had not been approved by its members yet.
Ryanair issued a profit warning on October 1 citing damage tobookings from strikes and cutting its forecast for full-year profit by 12%.
But Michael O'Leary said today that much of the weakness of recent weeks was sector-wide rather than specific to Ryanair.
Over-capacity in European short-haul will push Ryanair fares down by 2% in the six months to March 31 compared to the same period last year, O'Leary forecast. He warned he would not rule out a 3% fall.
"We are entering into a grim winter in terms of declining air fares," he told an analyst conference call.
"But moving into the summer of 2019 I would expect to see some upward traction on pricing following oil prices with a 12-month lag," the CEO added.