Ryanair today cut its forecast for full-year profit by 12% and said worse may be to come if recent coordinated strikes across Europe continue to hit traffic and bookings.
Europe's largest low-cost carrier has struggled with labour relations since it bowed to pressure to recognise trade unions for the first time last December.
Industrial unrest has escalated in recent months as it makes slow progress in talks with some unions.
Ryanair shares fell by as much as 13% on a warning that also cited higher oil costs and reverberated around the sector, with rivals Easyjet, Air France KLM and Lufthansa falling by 1.5-3%.
The airline said it now expects profit for the year, excluding start up losses in Laudamotion, to come in at €1.10-1.20 billion compared with its prior forecast of €1.25-1.35 billion.
It added that it could not rule out further disruption in the coming months, which may require full-year forecasts to be lowered again and further cuts to its loss-making winter capacity.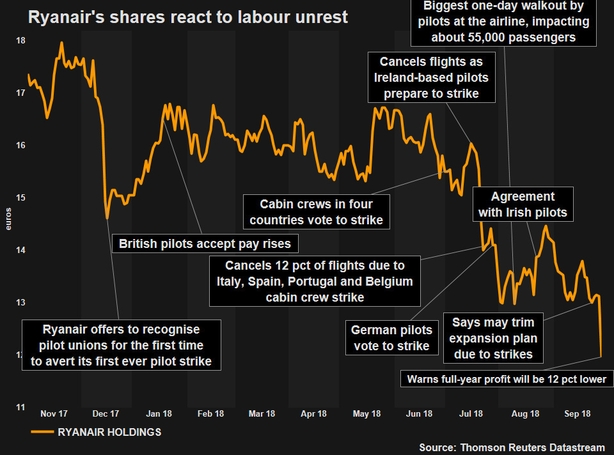 While Ryanair said it was able to manage initial smaller strikes, two coordinated walkouts since August in Portugal, Germany, Spain, Belgium and the Netherlands hit passenger numbers, last minute bookings, yields and forward air fares.
It said progress in reaching collective labour agreements with staff in other major markets of Ireland, the UK and Italy have not been repeated in the five other EU countries due to what it called "interference" in negotiations.
"Customer confidence, forward bookings and Q3 fares have been affected, most notably over the October school mid-terms and Christmas in those five countries," Ryanair chief Michael O'Leary said in a statement.
Goodbody Stockbrokers analyst Mark Simpson said the warning came as a surprise given that O'Leary had said there was no change to guidance just two weeks ago.
Ryanair said fares in its second quarter to the end of September had fallen by around 3% from a 1% dip forecast previously, and said that it now expects fares in the second half to fall 2%.
Ryanair said last week that the strikes were damaging business just as oil prices rose strongly.
The airline said today that its unhedged fuel costs have jumped as oil prices rise to $82 a barrel, hitting 10% of its volumes and the entire fuel bill of Austria's Laudamotion, which it agreed to buy this year.
To cope with the lower fares, higher oil prices and strike costs, Ryanair has trimmed its winter capacity by 1%, removing aircraft from its Eindhoven, Bremen and Niederrhein bases which will result in some more flight cancellations.
It said it would seek to minimise job losses by offering pilots vacancies at other bases and exploring unpaid leave and other options for cabin crew.
"We had until last week expected stronger Q3 fares to recover softer Q2 yields but over the past week Q3 fares, and customer confidence, have been affected by worries about possible strikes," the airline said in a statement today.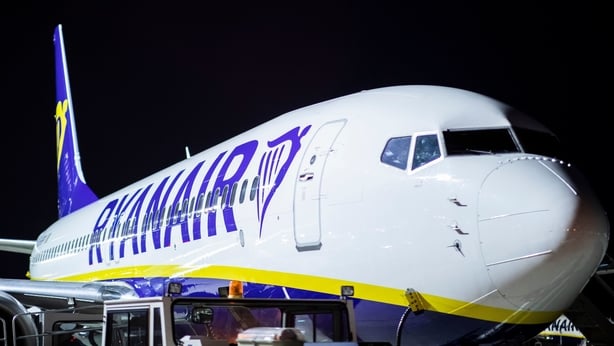 It also said it expects its fuel bill will be about €460m higher than last year and its "Other Costs" will be negatively impacted by higher care and re-accommodation costs.
The airline said its slower traffic growth in the second half of its financial year will cut it full year traffic to 138 million. It had previously expected passenger numbers of 139 million.
"While we successfully managed five strikes by 25% of our Irish pilots this summer, two recent coordinated strikes by cabin crew and pilots across 5 EU countries has affected passenger numbers (through flight cancellations), close in bookings and yields (as we re-accommodate disrupted passengers), and forward air fares into Q3," commented Ryanair's CEO Michael O'Leary.
"While we regret these disruptions, we have on both strike days operated over 90% of our schedule," he said.
Shares in Ryanair have fallen 27% since the industrial action ramped up in mid-July and shares in the airline had dropped sharply in Dublin trade today.