Ryanair has decided to restore six Dublin based aircraft that were due to transfer to Poland in November for the winter 2018 schedule.
The airline also said the related protective notices issued to 300 Dublin pilots and cabin crew in July have been withdrawn today.
It said the move was taken to "respond favourably" to the mediation deal overseen by Kieran Mulvey, which saw Ryanair pilots based in Ireland vote unanimously to accept a collective agreement negotiated with the company last month.
"We regret that mediation became necessary after five days of unsuccessful strikes which, despite causing minimal damage to Ryanair's schedules, did damage our forward fares and yields to/from Ireland because of the perception of possible disruptions," said Ryanair's Chief People Officer Eddie Wilson.
Mr Wilson said that Ryanair is committed to union recognition, and working constructively with its people and unions to address their reasonable concerns, as long as this does not alter Ryanair's low cost model or its ability to offer low fares to its customers.
He said: "Since December last year, when the board announced that we would recognise unions, Ryanair's people have enjoyed significant pay increases, improved terms and conditions, and we have agreed to improved seniority structures, base transfers and annual leave."
"We have done this in a year when we expect profits to fall by 15% due to a combination of higher fuel prices and higher staff costs," he added.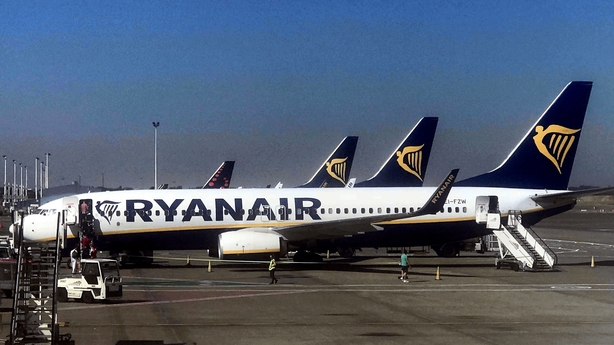 Meanwhile, unions representing Ryanair workers across Europe have threatened to hold the "biggest strike the airline has ever seen" before the end of this month if its board and shareholders do not change its business model.
The unions held a meeting in Rome this morning.
In a statement signed by representatives of unions in Italy, Portugal, Belgium Spain and the Netherlands, the unions urged shareholders attending the airline's annual general meeting on 20 September to "... place Ryanair on the right track and ensure a long and sustainable model more suitable to the Europe of the 21st century by capturing the right talents to bring Ryanair to the level that we all want to see it".
The unions say that the workers and their representatives will be monitoring the outcome of the shareholders' meeting.
"If the company leadership are not willing to make the changes necessary, [we] will have no choice but to respond with the biggest strike the company has ever seen," they added.
According to the statement, that strike will be announced by 13 September at the latest, and would take place in the last week of September.
The unions say the decision to change Ryanair's business model lies with the shareholders, while law enforcement is the responsibility of national governments and the European Commission.
They say they have already informed national governments of what they require of them and are requesting an urgent meeting with the European Commission to express their demands.