Eir has reported a 2% increase in earnings before interest and tax for the year to the end of June, while its revenues dipped 2%.
The company posted EBITDA of €531m for the year to June, up €11m on the previous year while revenues dipped by €24m to €1.270 billion.
Eir reduced its operating costs by €21m or 4% year on year, while the company said that Storm Ophelia cost it in the region of €3m.
The company said today's results are in line with expectations and the guidance issued at the beginning of the financial year.
Eir CEO Carolan Lennon said the acquisition of the group led by France's NJJ, a telco group with a track record of investment in infrastructure and enhanced customer propositions, is now complete.
"A new senior management team, with an equal gender split, is now in place, with almost all promoted from within Eir," she said.
We need your consent to load this rte-player contentWe use rte-player to manage extra content that can set cookies on your device and collect data about your activity. Please review their details and accept them to load the content.Manage Preferences

"Eir's transformational journey to become a leaner, more agile organisation, focused on capital investment, growth and the provision of the best mobile and broadband services in the country, is well and truly underway," she added.
The company said its total broadband customer base stood at 923,000 at the end of June, growing by 27,000 in the full year and 4,000 in the fourth quarter.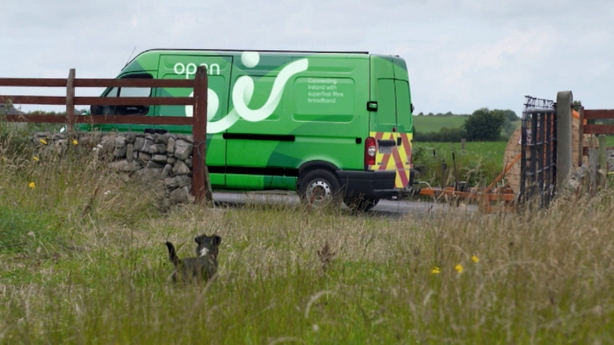 Wholesale broadband connections increased by 21,000 in the full year and decreased by 2,000 during the quarter, bringing the total wholesale broadband lines to 473,000 lines at the end of June 2018.
The retail broadband base increased by 6,000 in the quarter to a total of 450,000 customers, an increase of 6,000 or 1% compared to the prior year.
Meanwhile, Eir said that 635,000 customers were using its fibre based high-speed broadband service at the end of June 2018 - an increase of 84,000 for the full year.
69% of its broadband customers are connected to the company's fibre network, a 36% penetration of fibre premises passed, it added.
Eir said its group mobile customer base decreased by 14,000 to a total of 1,047,000 customers. It noted that postpay customers now represent 52% of its total mobile base, up 4 percentage points year on year.