Qualcomm has walked away from a $44 billion deal to buy NXP Semiconductors after failing to secure Chinese regulatory approval.
The proposed deal has become a high profile victim of a bitter Sino-US trade spat.
The world's biggest smartphone-chip maker and NXP confirmed in separate statements today that the deal, which would have been the biggest semiconductor takeover globally, had been terminated.
The collapse of the deal is likely to aggravate tensions between Washington and Beijing, damage China's image as a competition regulator and discourage deals that need Chinese approval to go through, sources have said.
Qualcomm had said yesterday that it would drop the bid for Dutch NXP, unless a last minute reprieve from China was received.
There was no word from China's State Administration for Market Regulation (SAMR), the antitrust regulator reviewing the deal, after the deadline for the deal to expire passed.
"We obviously got caught up in something that was above us," Qualcomm chief executive Steve Mollenkopf said.
The deal was first announced in October 2016, just days before the election of US President Donald Trump.
It was waiting for Chinese approval even as a trade dispute between USs and China intensified and the two countries clashed on issues such as ownership of technology and patents.
The Trump administration played an outsized role in Qualcomm's fate, and there had been expectations that the lifting of a ban on US chipmakers doing business with China's ZTE would clear the way for the NXP deal.
Qualcomm needed approval from China because the country accounted for nearly two-thirds of its revenue last year.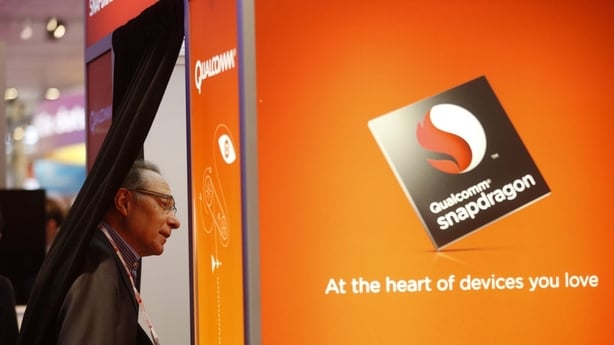 China's commerce ministry declined today to comment on whether the deal was approved.
"According to my understanding, the case was an anti-monopoly issue, and not related to China-US trade friction," ministry spokesman Gao Feng told a regular news conference.
He added that while China does not want a trade war, it is not afraid of one.
While the collapse of the deal will remove a big overhang from Qualcomm's stock, it will leave it on the hook to find new ways to turbocharge growth as global phone sales slow.
The company said it expects Apple to solely use modems from a rival - likely Intel - amid an acrimonious battle between the two companies over pricing and licensing costs.
But it cited progress on one of two major patent royalty conflicts, thought to be with Chinese phonemaker Huawei Technologies. Of the $700m due to Qualcomm as part of an interim agreement, $500m was paid this quarter.
For now, Qualcomm will buy back $30 billion in shares if the deal fails, making good on a promise to reassure investors.
The San Diego chipmaker last night also delivered surprisingly strong third-quarter results and a rosy outlook for so-called 5G technology, the next generation of wireless data networks.
Qualcomm will pay NXP $2 billion in a termination fee, as agreed.