Ryanair has again called on Fórsa to call off, or at least postpone, next Thursday's Irish pilots' strike and meet next week to negotiate on outstanding issues.
In a tweet this afternoon, the airline said there "is no good reason" why the union and pilots will not meet it on Monday, Tuesday or Wednesday of next week to avert the strike.
Ryanair again calls on FORSA to call off strike and meet: pic.twitter.com/ORYV0oRMVn

— Ryanair (@Ryanair) July 5, 2018
Separately, Ryanair cabin crew plan to strike in four countries in late July, including two of the airline's three largest markets, unions said today.
The unions also warned that further action may follow if employment terms are not improved. 
Cabin crew in Portugal, Belgium and Spain - its third largest market - will strike for 48 hours on 25-26 July, five trade unions said in a statement. 
Cabin crew in Italy - the airline's second largest market - will hold a 24-hour strike on 25 July. 
The cabin crew are joining Irish Ryanair pilots who this week announced a strike for 12 July, saying Europe's largest low-cost carrier had failed to improve conditions sufficiently after recognising unions in December.
Other pilot unions have said they are considering industrial action.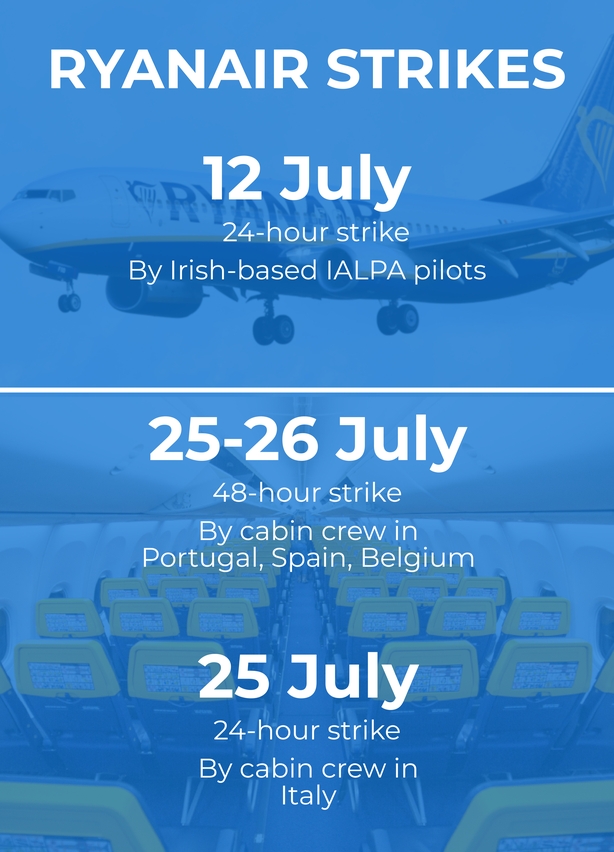 The cabin crew unions are demanding that Ryanair contracts across Europe be subject to local law rather than Irish law.
They also want all cabin crew to receive the same terms and conditions irrespective of whether they are direct employees or hired via a third-party contractor. 
"We call on the European Commission, and the governments of every European country where Ryanair operates, to act upon the social dumping performed by the Irish low cost carrier and to enforce the EU employment and national imperative legislation," the unions said in a statement. 
The statement was signed by Belgium's CNE/LBC, Spain's SITCPLA and USO, Portugal's SNPVAC and Italy's Ultrasporti union. 
We need your consent to load this rte-player contentWe use rte-player to manage extra content that can set cookies on your device and collect data about your activity. Please review their details and accept them to load the content.Manage Preferences
The unions do not represent all cabin crew in those countries, but they have said other crew are welcome to join the action.
Ryanair has said its employment conditions for its staff are competitive and often superior to rivals. 
It described a series of demands by cabin crew unions as "pointless" due to the overall attractiveness of staff conditions. 
Meanwhile, Ryanair pilots' union IALPA has told the airline that its strike notice stands.
IALPA said next Thursday's 24-hour stoppage will only be averted if agreement is reached on its 11 key demands for a seniority agreement. 
Yesterday, Ryanair appealed to the pilots to call off the strike which it described unnecessary.
It offered to meet IALPA and its affiliate Fórsa at the airline's headquarters in Swords as early as Monday. 
However, in today's response, Fórsa National Secretary Angela Kirk said Ryanair pilots decided to proceed with their strike ballot because they had seen "no evidence whatsoever on the part of Ryanair management to engage in meaningful negotiations with a view to reaching agreement on the issues they have presented to the company."
She said that in the view of her members, as reflected in the overwhelming majority who voted in favour of industrial action, Ryanair's response falls far short of what is required to reach agreement.
She said it was another attempt by management to avert a dispute with absolutely no intention of negotiating on what the pilots view as very reasonable requirements.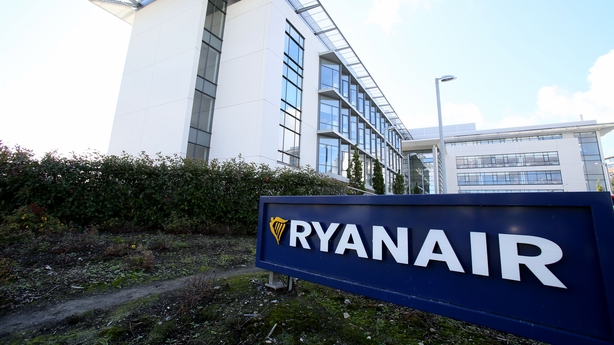 Ms Kirk also raised the issue of a venue for meetings. She said that Fórsa/IALPA have consistently suggested the two sides should meet at a neutral venue, which the union would pay for, rather than Ryanair's headquarters in Swords.  
She said it is beyond anyone's understanding why the airline will not simply agree to this, adding: "It is yet another example of a Ryanair view which is "it's either our way or no way"."
She continued that if management is genuinely serious about engaging in meaningful negotiations, they should confirm that they will meet at a neutral venue, and respond positively to the union demands for for a seniority agreement.
"That at least might give the members some indication that you will actually engage in a meaningful negotiation and not once again present them with a "take it or leave it" offer at the 11th hour," Ms Kirk said.
She also said her members want the union to confirm that IALPA/Fórsa have never agreed a 20% pilot pay increase this year with Ryanair. 
IALPA balloted around 100 directly employed pilots based in Ireland. 
However, Ryanair also employs up to 300 more pilots as contractors, self-employed or agency staff, who will not be striking. 
Ryanair has said it will notify customers of any possible disruption by Tuesday.
It has described the strike as unnecessary, given that it has submitted documentation to the union side regarding the issues in dispute.