Dixons Carphone has become the latest company to fall victim to a cyber attack after revealing 5.9 million customer bank card details and 1.2 million personal data records were hacked.
The retailer behind Currys PC World and Carphone Warehouse said that while 5.8 million of the payment cards targeted were protected by chip and pin, around 105,000 non-EU cards without chip and pin protection were compromised.
Dixons Carphone said relevant card companies had been notified, but added that there was no evidence of fraud on the cards as a result of the incident.
It added that its investigation had also found that hackers accessed non-financial personal data - such as name, address or email details - for 1.2 million customer records.
The group is contacting all those affected, but sought to assure customers it had no evidence that this had resulted in fraud at this stage.
It said it had called in cyber experts and added extra security to its systems following the breach, while also since calling in the police and relevant authorities.
A spokesman for the company said an investigation is ongoing to see if any Irish customers were potentially affected by the data breach.
Dixons Carphone chief executive Alex Baldock admitted the group had "fallen short" of its responsibility to protect customer data.
The UK's National Crime Agency said that it is working with the National Cyber Security Centre, the Financial Conduct Authority and the Information Commissioner's Office (ICO) to "understand what's happened".
Dixons Carphone was fined £400,000 by the ICO in January after a 2015 cyber attack exposed the personal data of more than three million customers. 
The latest data breach began in July last year, well before May 25, when new European General Data Protection Regulation (GDPR) rules came into force.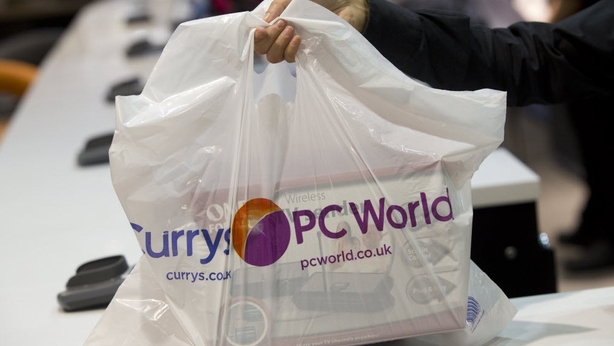 It means that Dixons Carphone will likely escape hefty fines under the new regime, which can be up to €20m for a significant data breach.
However, the ICO said that it is still determining whether the case is dealt with under the 1998 or 2018 Data Protection Act.
"We are extremely disappointed and sorry for any upset this may cause. The protection of our data has to be at the heart of our business, and we've fallen short here," Mr Baldock said.
"We've taken action to close off this unauthorised access and, though we have currently no evidence of fraud as a result of these incidents, we are taking this extremely seriously," he added.
Dixons said the hack occurred in one of the processing systems of Currys PC World and Dixons Travel stores. 
It said the data accessed did not contain Pin codes, card verification values (CVV) or any authentication data allowing cardholder identification or a purchase to be made.
The group added it did not believe the personal data accessed had left the group's systems, but was advising those affected on protective steps they should take.
It comes after UK telecoms firm TalkTalk was hit by a major cyber attack in October 2015, which saw the personal data of nearly 160,000 people accessed by hackers and left the firm facing a record £400,000 fine for security failings.