Budget airline Wizz Air sees profit soaring again this year as bigger, more efficient A321 planes help it to keep costs down.
This puts the airline on course to outshine larger rival Ryanair which is more pessimistic about prospects. 
Wizz, which mainly serves passengers in central and eastern Europe, said today that its profits could climb as much as 24% in the 12 months to the end of next March.
By contrast Europe's biggest low cost airline Ryanair said this week that its profits would fall for the first time in five years, hit by higher fuel and staffing costs and flat fares. 
Wizz Air is also expecting labour costs to rise this year, but said the growing proportion of Airbus A321 aircraft in its fleet gave it an advantage as the planes were more fuel efficient and carried more passengers. 
Overall it was guiding for costs excluding fuel to fall by 1%. 
"That is a significantly different position from our competitors. You are seeing cost creep with all of them," Wizz's chief executive Jozsef Varadi said. 
For the 12 months to March 31, Wizz reported net profit of €275m, a 22% jump on the year before.
All airlines are facing higher fuel costs because the price of crude oil has climbed to above $80 a barrel for the first time since November 2014. 
Wizz said it was confident it could pass on the rise to customers and even saw benefits from the impact of a high fuel price environment.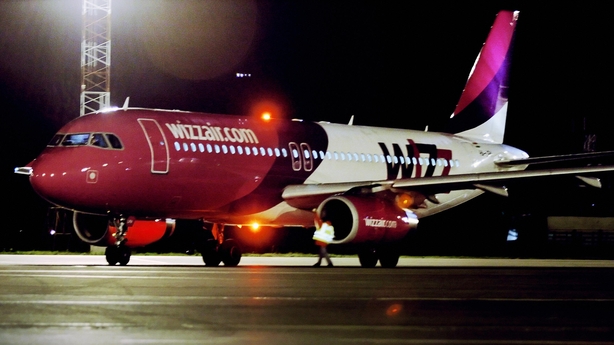 "That will put pressure on the weak performing airlines and almost all of central and eastern Europe's incumbent national carriers perform very vulnerably with no profitability and no liquidity so we will see what happens to them," Varadi said. 
Wizz, like its larger low-cost rivals Ryanair and EasyJet, aims to steal market share when the oil price rises and higher-cost carriers are forced to withdraw unprofitable capacity from the market. 
Last year capacity left the market when UK airline Monarch collapsed, allowing Budapest-headquartered Wizz to expand in Britain when it bought slots that became available at London's Luton airport. 
When asked about Wizz's interest in Norwegian, a budget carrier which has needed to raise funds to shore up its balance sheet and has rejected two approaches from IAG, Varadi said his company would remain opportunistic. 
"We don't know what's going to happen to Norwegian but if that creates capacity opportunities for us one way or another then yes we would certainly consider it," he said, highlighting Wizz's Monarch deal as an example of what was possible.