Property prices outside of Dublin are continuing to increase at a higher rate than in the capital, latest figures from the Central Statistics Office show.
The Residential Property Price Index for March shows that in the year to March prices outside of Dublin rose by 13.4%.
This compares with a 12.1% rise for Dublin.
The West region showed the greatest price growth, with house prices up by 18%, with the border region showing the least house price growth, at 8.8%.
Apartment prices in the Rest of Ireland increased by 13.4% in the year to March.
                                                  Residential Property Price Index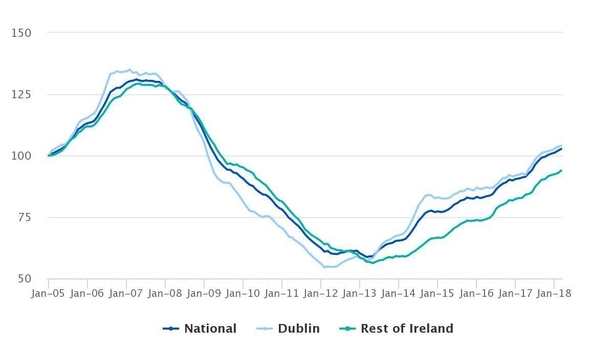 Over the same corresponding period, Dublin house prices went up by 11.8%, with apartment prices in the capital 13.9% higher.
The highest house price growth was in Dublin City, at 14.2%. In contrast, the lowest growth was in South Dublin, where house prices increased 9.6%.
Despite the price increases, house prices countrywide are still 21.6% lower than their peak in 2007.
From the trough in early 2013, prices nationally have increased by 75%.
Dublin residential property prices have increased 90.8% from their February 2012 low, with residential property prices in the Rest of Ireland 67.1% higher than their trough in May 2013.