A union recognition deal for Ryanair pilots in Germany has been delayed because the pilots are insisting on furnishing all documentation in German, according to a management update on recognition negotiations across the airline network.
In the bulletin issued to pilots issued on 19 April, Chief People Officer Eddie Wilson outlined the progress - or lack of it - made in each country since the airline's shock pre-Christmas decision to recognise unions, which hit the headlines worldwide.
He notes that four months into the negotiations, while some countries have moved quickly to sign recognition agreements, others - including Ireland - have been much slower to respond to the airline's proposals.
On the Irish negotiations, Mr Wilson says that after two meetings in December and January they have made very little progress.
He accuses Forsa of taking over one month to reply to a management letter, adding that the union "... seems unwilling to recognise Ryanair's low fares, high productivity model or provide assurances that there will be no involvement of competitor airline pilots in our negotiations".
He says Ryanair has again written to Forsa, confirming that the airline will meet the union and negotiate a collective agreement, but stresses that it "... must first accept Ryanair's high productivity model and agree to negotiate for Ryanair pilots without the involvement of competitor airline pilots".
Regarding the German negotiations he states: "We have met the VC union twice but progress is slow. VC are now insisting on sending their proposals in German, which will slow up the process further. The next meeting is scheduled for 3 May and we have asked the VC to provide proposals in English so we can make some real progress with negotiations".
In the UK, where the first recognition agreement was signed with the BALPA union on 29 January, Mr Wilson reports that good progress has been made - including actively negotiating a new annual leave system for UK based pilots to be implemented next January.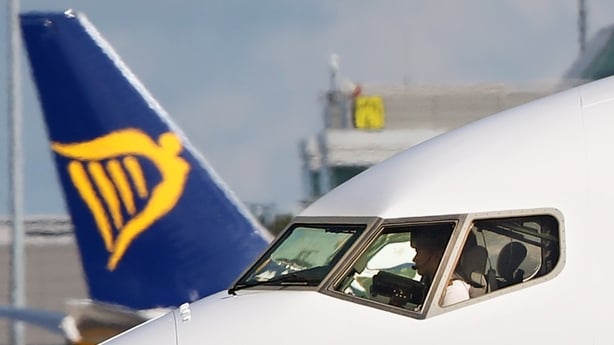 He tells pilots that following a union recognition deal signed with Italian union ANPAC on 5 March, it is hoped the next step of a Collective Labour Agreement (CLA) will be concluded shortly, to deliver "significant pay and tax advantages" for Italian-based pilots.
In Spain, Mr Wilson says there have been productive meetings with the SEPLA union, where the remaining issue is time off for representative duties for the pilot committee. However, he remains hopeful of an early conclusion so they can negotiate a CLA.
The Portuguese union SPAC only attended one meeting with Ryanair management last December - though there has been correspondence between the two sides, with the company offering to meet them on 1 May.
However, Mr Wilson reports there has been little progress with the Belgian pilots' union BECA, though they are hoping to set up a meeting in early May, while further negotiations are planned in the Netherlands.
In Sweden the issue of a pilot from a competitor airline attending a meeting meant it could not progress.
Ryanair has also met unions in France and Denmark, and has committed to talk to them about a CLA if they set up bases in those countries.
Mr Wilson reiterates the potential benefits on offer to pilots, including pay which Ryanair says is 20% ahead of other low cost operators, rosters which deliver more guaranteed time off, a commitment to negotiate a new annual leave system, and a further commitment to deliver more pilot support.
He says Ryanair has pledged to address many issues raised in a recent pilot survey, in which over 50% participated in order to deliver rewarding well-paid and stable jobs for pilots.
He concludes by acknowledging last December's "historic" decision to recognise unions, but warns that any Collective Labour Agreements "... must fit our proven business model of low fares, high aircraft utilisation and maintaining existing pilot productivity".
Responding to a query from RTÉ about Ryanair's country-by-country update on union negotiations with pilots, a company spokesperson said: "We don't comment on our negotiations with our people."
Ryanair presses ahead with German expansion with Duesseldorf base
Meanwhile, Ryanair said it plans to open a base at Duesseldorf's main airport in its latest expansion into its key target market of Germany in the wake of the collapse of rival Air Berlin.
The airline said it will base one aircraft at the Duesseldorf Airport from June to service routes to Spain.
The move is the latest challenge by Ryanair to Lufthansa, which last year overtook the carrier as Europe's largest by passenger numbers. Lufthansa's Eurowings is currently market leader at Duesseldorf.
Ryanair has a 9% market share in Germany compared to 15% across Europe as a whole. It currently flies from Weeze Airport, 70 kms northwest of Duesseldorf.