Today FM presenter Matt Cooper has maintaind his position as the most influential Irish journalist on Twitter, according to the latest #murraytweetindex.
The index also shows that TV3's political correspondent Gavan Reilly took second place, while Sunday World sports journalist Kevin Palmer was in third.
Meanwhile, Sky News' Ireland correspondent Darren McCaffrey topped the news category, while Independent News & Media's Group Business Editor Dearbhail McDonald kept the top slot in business.
Gavan Reilly topped the political category for the fourth consecutive year, followed by the Sunday Business Post's political correspondent Hugh O'Connell and RTE's political correspondent Martina Fitzgerald.
RTE's Fergal Bowers was the most influential tweeter in the health area, while fellow RTE journalists Caitriona Perry, Philip Boucher Hayes and Des Cahill also made the top 20.
The #murraytweetindex, compiled by communications consultancy Murray, ranks over 720 journalists across six parameters, measuring popularity, quality of engagement and level of activity.
Murray's Doug Keatinge - who led the research - said the reach of Irish journalists on Twitter continues to surge with the top 100 journalists listed having a combined three million followers, up 16% on last year.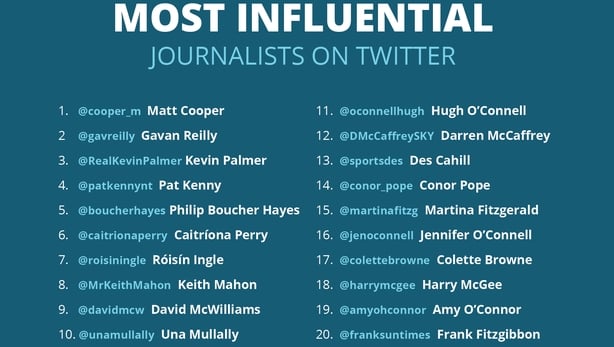 "2017 was a year which saw some major changes in the world of both journalism and Twitter, with growing criticism of the grey area of paid social media influencers now being investigated by the Competition and Consumer Protection Commission," Doug Keatinge said.
He said that trust has also been a cause for concern in terms of followers on Twitter, with increasing scrutiny of the proliferation of fake accounts and bots which may see some users overstating their real presence.
"More recently we have also seen research issued by MIT with the worrying finding that 'fake news' travels further and faster than the truth does on Twitter," he added.