Permanent TSB has reported a profit of €40m for the year to the end of December, the bank's first profit since the financial crisis.
The bank had reported a loss of €266m in 2016.
Permanent TSB said its pre-tax profits for the year came to €52m compared to a pre-tax loss of €226m for 2016.
But its operating profit before exceptional items for the year fell to €65m from €188m in 2016.
The bank said that mortgage arrears cases continued to decline with arrears down about 50% from their peak in 2013. 
But it noted that non-performing loans still make up 26% of its loan book and Permanent TSB said finding a resolution for these loans was a priority for management.
It added that a number of strategies are being deployed to accelerate remediation and resolution, including the sale of some of these loans. 
Permanent TSB posts first profit since crisis, but challenges remain pic.twitter.com/08cMctjSlK

— RTÉ Business (@RTEbusiness) March 14, 2018
The bank took an impairment charge of €49m compared to a €68m writeback for 2016, which it said reflected its "prudent approach" to its non-performing loan strategy.
Jeremy Masding, the chief executive of Permanent TSB, said the bank saw a successful commercial year, where it loaned over €1 billion to the Irish economy, an increase of over 70% on 2016. 
"Crucially, we have regained our natural market share in the residential mortgage market; this has increased to 12.6% in 2017 from a low single digit in 2012," Mr Masding said. 
Mr Masding said that despite the bank's progress last year, challenges in transforming the bank remain.
"In particular, the high level of NPLs that must be reduced to meet both our own and our regulator's desire for a safer bank that can continue to contribute to the growth of the Irish economy," he said. 
"We believe we have the right strategy and sufficient capital to address these challenges and to deliver our strategic objectives," he added.
We need your consent to load this rte-player contentWe use rte-player to manage extra content that can set cookies on your device and collect data about your activity. Please review their details and accept them to load the content.Manage Preferences
The bank launched the sale of €3.7 billion worth of non-performing loans in February - Project Glas. Project Glas consists of €2.8 billion of home loans and €0.9 billion of buy-to-let loans. 
News of the sale sparked vocal political opposition and possible legislative changes to protect borrowers if loans are sold to non-banking entities. 
PTSB has come under particular pressure from European regulators to cut its high level of NPLs and said today they had fallen by €600m to €5.3 billion. 
It has targeted a reduction of NPLs to below 10% of its loan book by 2021 or sooner.
Speaking on Morning Ireland, Mr Masding said the Governor of the Central Bank had said that selling NPLs - including to vulture funds - would be one option available to banks to get the level of bad loans on their books lower.
But he stressed that protections follow the loans.  
He said that causing more distress for borrowers is the last thing the bank wants to do, adding that they are "not short of compassion".
But he added that the bank is running short of options on non-performing loans and has to stick to the regulations regarding these loans.
Mr Masding said that while he understands the view point of stakeholders, every option has consequences and he has to be guided by his job and keep within regulation requirements.
"My job is to get the best result for Irish taxpayers," he stated.
He also said that comparing Permanent TSB with other banks and their non-performing loan strategies is not really comparing like with like. 
The PTSB CEO said that some banks had the benefit of transferring some of their loans to NAMA after the financial crisis, while Permanent TSB had to sell off some of its performing loans under its restructuring plan. 
On the tracker mortgage issue, Mr Masding said that 100% of impacted customers are back on their correct tracker rates, while 100% of those impacted customer have also been offered compensation.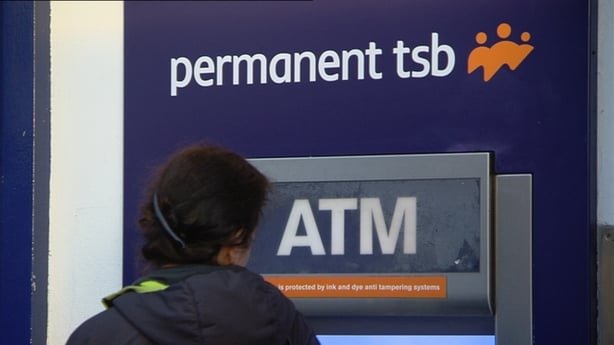 He said that like the other banks, Permanent TSB is waiting for independent assurances from the Central Bank as to whether any more customers will be identified in the tracker mortgage scandal, but added that as of today he believes PTSB has completed the programme.
Today's results showed that new lending at PTSB surged by 74% last year, increasing the bank's share of the mortgage market to 12.6% from 9.1% in 2016.
This was within striking distance of the 13-17% level it targeted to capture by the end of 2018 when it re-listed on the stock exchange three years ago.
Permanent TSB said its core Tier 1 capital ratio stood at 15% compared to 15.3% as of the end of September under fully loaded Basel III industry rules. 
The bank said the strong capital base gave it the capacity to manage down its NPL ratio but that it will have to carefully manage any impact from the execution of the NPL strategy. 
Commenting on today's results, Investec Ireland's Owen Callan noted that real progress was being made on new lending volumes and NPL declines, with capital also holding up well, but there are still concerns over asset quality given the higher impairment charge.
Shares in the company were lower in Dublin trade today.