Ulster Bank has confirmed that it is preparing for a potential sale of some mortgages that are in arrears and was setting aside €68m.
Ulster Bank's outgoing Chief Executive Gerry Mallon (below) said the bank could sell as many as 7,000 mortgages in arrears. The bank has about 20,000 customers in arrears.
Mr Mallon said Ulster Bank's non-performing loans made up 16% of its total loans and it was required by regulators to reduce that to 5%.
In an interview on RTÉ's Morning Ireland, Mr Mallon acknowledged that Ulster Bank could sell the mortgages in arrears to foreign funds.
Ulster Bank to sell off portfolio of non-performing loans pic.twitter.com/1N7BYSAPH9

— RTÉ Business (@RTEbusiness) February 23, 2018
The development follows controversy over Permanent TSB's plans to sell 18,000 loans this year.
Mr Mallon said the very high degree of legal and regulatory protection Irish mortgage customers are offered would not be altered "one little bit" by the transfer of loans to a non-banking entity.
"There is a regulatory requirement for us to reduce our non-performing loan book," he said.
"That's the view of the ECB. Ten years on from the crisis, the level of non-performing loans in the sector is still out of tolerance. They require us to get to around 5% of our total loan book in non-performing loans. We're currently at 16%."
A spokesperson for Ulster Bank has said the loans it plans to sell would be a mixture of owner-occupier loans and buy-to-let mortgages.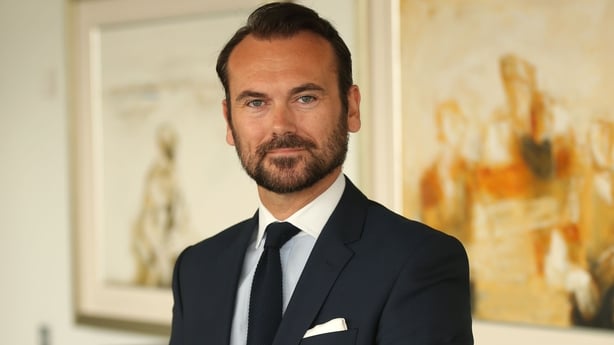 Separately, the CEO said the bank did not have a final number on the tracker mortgages that were wrongly removed from its customers, but it hoped to have that figure "shortly".
Ulster Bank has already identified 3,500 customers whose tracker mortgages were wrongly removed, who are due to be compensated before June.
"We have a really complex set of processes. We've got five different legacy mortgage systems across two different banks, and rebuilding those customer accounts and getting to their right level of remediation and compensation is a really complex activity, and the central bank accepts it."
Earlier, Ulster Bank reported an operating loss of €151m for the year to the end of December, compared with a profit of €24m in 2016.
Ulster Bank also said it had made a provision of €192m to deal with "legacy conduct and litigation issues". This includes €87m to deal with its mishandling of tracker mortgage customers.
The bank, owned by RBS - which reported its first profit in ten years today - said that its adjusted operating expenses of €516m were 7.7% lower last year than in 2016.
This was mainly due to continued progress in the delivery of cost-saving initiatives, including a reduced workforce and lower pension costs.
Ulster Bank said its gross new lending rose by 3.4% to €2.6 billion last year.
In today's results statement, Ulster Bank's CEO said that it was nearing conclusion of its discussions with the Central Bank on the tracker mortgage examination.
Mr Mallon said the bank hoped to be in a position to update on the final numbers of impacted customers in the "near future".
"We recognise that full and timely resolution of these issues is essential for customers and in rebuilding trust in Ulster Bank," Mr Mallon said.
"Whereas our errors have resulted in both positive and negative impacts for customers our follow up will be solely with disadvantaged customers to whom we apologise unreservedly," he added.
Ulster Bank is now the only bank that has not finalised the scale of its tracker mortgage problem.
Mr Mallon also said that consistent with the industry-wide regulatory requirement to reduce non-performing loans, Ulster Bank has included an impairment provision to allow for potential sales of distressed loan portfolios that are in long-term arrears and are unsustainable.
Ulster Bank's change of strategy was "presumably in response to the well-documented interest" in planned sales by Permanent tsb and AIB, Goodbody Stockbrokers analyst John Cronin wrote in a note today.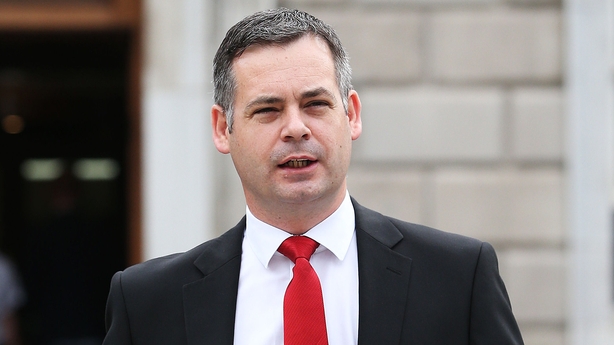 Sinn Féin's finance spokesman Pearse Doherty has said the mooted sale of thousands of underperforming mortgage loans by Ulster Bank will "end in tears" and will result in an increase of home repossessions.
Mr Doherty told Morning Ireland that it is not acceptable for banks to sell loans on to vulture funds as the suite of repayment options offered by banks will not be provided by vulture funds.
He said families need to be given the space to meet the payments they have entered into, including write-downs on their arrears.
Mr Doherty said there is a duty on politicians to "create an appetite" that says that sales of such loans to vulture funds cannot happen.
He said no court can force a vulture fund to offer options to distressed mortgage holders of mortgage-to-rent or split mortgage solutions.
Mr Doherty also said Mr Mallon's failure to appear with his colleagues before the Oireachtas Finance Committee was a "snub to the committee and to the Irish people".