Royal Bank of Scotland has today reported its first full-year profit since 2007.
But the symbolic moment was bitter-sweet for the bank which had hoped to get a multi billion-dollar misconduct charge out of the way instead. 
The bank's £752m profit beat a company-provided average of analyst forecasts for a £592m loss. 
But many had included in their estimates hefty provisions for a settlement with the US Department of Justice for mis-selling by RBS of toxic mortgage backed securities. 
Some analysts put the charge as high as $12 billion. RBS had hoped to settle the case in 2017.
If it had, this would have resulted in the bank's 10th consecutive annual loss. Since 2008, RBS has booked £58 billion in losses. 
The bank, which owns Ulster Bank here, did not provide an update on the timing of the settlement, its last large remaining legacy issue.
Shares in Royal Bank of Scotland closed down 4.8% - their biggest one-day drop in nearly one year.
RBS chief executive Ross McEwan said in a statement this was out of the bank's control but the bank could nonetheless begin to think about resuming payments of dividends or buying back its shares. 
"With many of our legacy issues behind us, the investment case for this bank is much clearer and the prospect of returning any excess capital to shareholders is getting closer," he said. 
But for market watchers, the bank's symbolic return to profit after its £45.5 billion bailout during the height of the financial crisis will be overshadowed by this last large, looming fine for crisis-era misconduct. 
The issue weighs on RBS's share price and complicates the UK government's plan to sell down its 71% stake in the bank.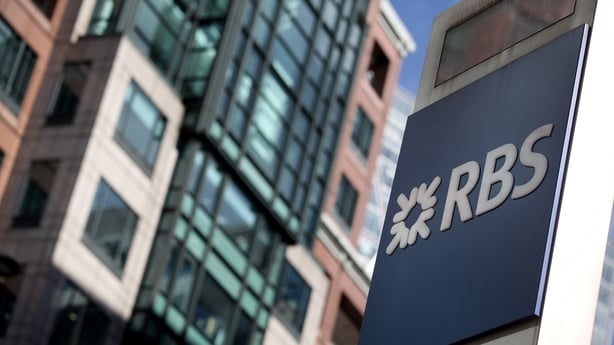 RBS took £764m of provisions in the fourth quarter for conduct issues like its mis-sale of payment protection insurance, which came in at £175m. 
Restructuring costs were £531m for the fourth quarter and £1.6 billion for the entire year. 
Overall, the bank continued to drive down costs - a strategic aim that has seen it shed billions of pounds from the bank in recent years. 
In 2017, it beat its overall cost reduction target of £750m, taking out £810m overall.
Royal Bank of Scotland pays women on average 37% less than men
Royal Bank of Scotland said today it paid women on average 37% less than men, the latest UK big bank to disclose how a concentration of males in senior roles skews pay in the financial industry. 
The disclosure means the average hourly wage for a woman at the bank was 37% less, largely as a result of men occupying more senior, higher-paying roles. 
RBS said women held 37% of jobs in its top three layers of management, and the bank is on track to have a fully balanced workforce at all levels by 2030. 
RBS is the latest bank to disclose a wide gender pay gap, after Barclays yesterday said women in its international division on average earn half of what men do, drawing criticism from politicians. 
Other organisations to have made such disclosures include US investment banks like Citigroup, Wells Fargo and Bank of America, as well as the Bank of England. 
Other major British lenders Lloyds Banking Group and HSBC said this week they will publish their pay gaps before the April deadline.
RBS CEO Ross McEwan's pay falls 6% to £3.5m
Royal Bank of Scotland cut chief executive Ross McEwan's pay package by 6% to £3.5m in 2017, as the bank remained overshadowed by its treatment of small businesses. 
Ross McEwan, appointed in 2013 and tasked with overhauling a bank loaded with toxic assets, has seen his pay grow from £378,000 since then. In 2016, he was paid £3.7m.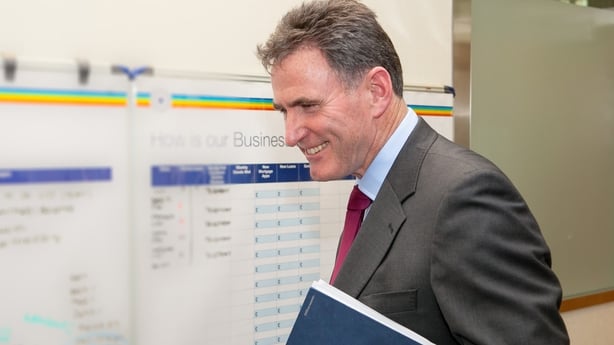 The decline in his 2017 payout was due to a fall in long-term incentive awards calculated on the executive's performance, with his fixed pay and other benefits unchanged. 
The chair of RBS's pay committee Robert Gillespie said the payout reflected that the bank performed well on financial measures but missed targets to improve customers' trust. 
McEwan has waived his annual bonus since joining the bank, still 71% owned by the UK taxpayer after its £45.5 billion bailout in 2008. 
The bank said its group bonus pool for 2017 was £342m, down from £343m the year before. 
Bankers pay has become a point of contention in Britain, particularly for banks receiving government bailouts that the public blame on reckless lending and poor corporate governance. 
RBS's sales of toxic mortgage-backed securities in the US is an example of historic misconduct that New Zealand-born McEwan has struggled resolve. 
Another is a saga over the bank's Global Restructuring Group, a turnaround division accused of cashing in on troubled clients. 
But RBS has rid itself of some of past problems, including closing a "bad bank" it set up to sell more than $2 trillion in unwanted assets.