Kingspan has said it expects the sharp slowdown seen in demand for its insulated panels in the UK to carry on because of what it termed the "Brexit quagmire".
This sent the Co Cavan-based building materials group's share price sharply lower in Dublin trade today, and it closed down 4.4% to stand at €35.55. 
Reporting its full year results, Kingspan said the British market had performed resiliently for much of the year.
But it added that indecision over orders became more evident as fewer large scale non-residential projects came to the market towards the end of the year.
The trend it flagged in November has continued in 2018 with the value of its UK order intake down over 15% on the previous year, the group said as it reported an 11% year-on-year rise in full year trading profits.  
The insulation producer warned that with general confidence ebbing and inward investment waning as Brexit approaches, Britain was heading into a more difficult phase. 
"I think what we're seeing is a little bit of investor pullback when it comes to construction, it's quite logical that investors would hang back given the present uncertainty to see which direction things are going," Kingspan's CEO Gene Murtagh said. 
"What suffers up front is generally low rise commercial and industrial and that's where we've been feeling it in the insulated panel business," Gene Murtagh said.
"I would expect it to continue for sure, but at what rate it is really difficult to call," Mr Murtagh said. 
Kingspan generates around a quarter of its sales in Britain, though that reliance has been falling as it diversified further into other parts of Europe last year and entered the South American market in a record €600m buying spree. 
That helped drive the €377.5m trading profit, with acquisitions contributing 9% to that growth. Of its ten acquisitions last year, the two largest are also yet to close.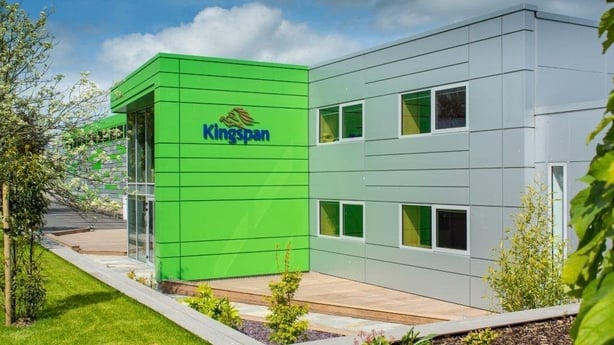 "The business has diversified hugely in the last four or five years and clearly in particular the European dimension and more recently the South American dimension have just added other avenue completely for us that compensate somewhat for the weakness in the UK," Murtagh said.
Kingspan today recorded a net profit of €286m, up almost 12% on the previous year. Revenues for 2017 rose by 18% to €3.67 billion, while pre-tax profits rose to €346.5m from €314m the previous year.
The company has proposed a final dividend per share of 26 cent, which brings its total dividend for the year to 37 cent, an increase of 10%.
It noted that the market in Ireland for its insulated panels has progressed well in recent years as the economy recovers and growth in building resumes. But it added that the non-residential sector was broadly "flat" year on year.
Kingspan also said that 2017 was a positive year for its Kooltherm insulation boards in Ireland as the conversion towards higher performance insulation continued to advance.
Looking ahead, Kingspan said that 2018 got off to a relatively slow start, although the "healthy nature" of its orderbook in most regions should see that improve through the first quarter. 
Despite the concerns surrounding the UK market, Kingspan said that its other end markets remain in solid shape overall. 
"This, together with the evolving new frontiers we are currently investing in and the associated acquisitions expected to come on stream during the first half, should provide a counterbalance to the weakening near term UK building environment," the company added.