Payment services company Stripe is to expand its Dublin office, adding dozens of engineering positions over the next few years.
The move will make its European Headquarters in Silicon Docks its first engineering hub outside of the US.
The San Francisco headquartered company was founded by brothers Patrick and John Collison from Limerick and is now worth more than $9.1 billion.
It will use the new hub to tailor its payment service products for the European and other markets.
The chief executive of Stripe said that Dublin has come into its own as a technology centre and this was one of the main reasons the city was chosen as the location for the company's first international engineering hub.
Patrick Collison says other factors, such as Ireland's outward looking mentality, made the company confident about betting on Dublin as its centre.
Stripe already employs around 100 people at its European headquarters in Dublin.
"When you factor in Ireland's outward looking mentality and the ability to absorb people from cultures all around the world, we really felt good about betting on it as a place to build a global engineering hub," Patrick Collison said.
He added that the company will initially employ around 24 people at its technology centre but he can see that number increasing significantly in the years ahead.
Mr Collison said the company will be monitoring some social issues, such as housing, which could become a major impediment to attracting talent.
He added that the Irish tax regime was a factor in the company's decision making process, but not the most important one.
When asked about Donald Trump's immigration policies, Mr Collison told RTÉ's Morning Ireland that US immigration restrictions have had a negative impact on the company, because they are unable to employ some people in the US.
However, he said he was heartened by the fact that support has never been so high for immigrants in the US.
David Singleton, Stripe's Head of Engineering, who recently joined the company from Google where he led its smart watch team, said given its heritage it means a lot to bring the very core of Stripe back home to Ireland.
"The Dublin team will work on the very core of Stripe, the payments products," he told RTÉ News.
"That team will focus on building core functionality for users all around the world but especially those in Europe."
He said Stripe already has as customers Irish startup firms like Intercom, but has also helped bring the services of other foreign firms into Ireland, like Deliveroo and Slack.
"But increasingly larger and more established businesses are turning to Stripe to reinvent themselves for the internet age," he added.
"We are seeing a lot of progress in Ireland. For instance An Post have just launched a shopping and delivery platform for local shops using Stripe.
"And the GAA is now using Stripe to let local clubs accept payments from their members, which is pretty cool."
In a sign of how embedded the company's technology is becoming in e-commerce in Europe, 40% of people across the UK and Ireland have bought something using Stripe in the past year.
Initially, the business is looking to hire a Head of Engineering for Europe in Dublin, as well as engineering managers, back-end engineers and full-stack engineers.
Mr Singleton said the company is not being specific on the exact numbers it intends to recruit here because he said a lot depends on who you hire and when you hire them.
The company currently employs around 100 workers in its Dublin office in areas such as user support, sales and operations, serving users across Europe.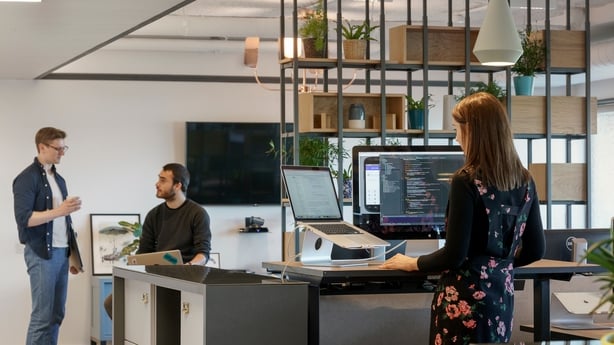 Stripe has around 1,000 staff globally across nine countries.
Mr Singleton said Dublin is already a very natural choice for the company, not only because it is home to its European headquarters, but also because of the availability of talent.
"We are tremendously optimistic about the tech talent that we'll be able to attract to Dublin, both locally in Ireland and also across Europe," he said.
"A lot of companies treat Dublin as a back office for Europe, but given the depth of talent we've seen in Dublin we're looking to Dublin as much more than that."
He said projectionist attitudes have harmed the reputations of many of the economic superpowers around the world and in Europe more specifically.
Ireland's open door policy that makes it very easy for global talent to come here and the pro-business culture, has set Ireland up to be a long-term great home for this function Mr Singleton added.
He said the Irish engineering team would be involved in localising products for specific markets outside the US and working to understand those market needs more deeply.
"An engineering office outside the US allows us to much better tailor the products to support people in Europe and further afield," he said.
"We've actually found that payments are remarkably cultural. The way people pay in countries like Germany and the Netherlands are completely different to how they pay in Ireland and also different between those two countries."
In recent times, the company has been working on widening its suite of products to include a service that helps businesses incorporate more easily called Atlas, businesses operations software called Sigma and a fraud detection system called Radar.
Mr Singleton said the first Dublin based engineering team would be focused on the payments side of the business but as things develop the company would be more keen to bring further product engineering to Ireland.
Founded in 2010 by Limerick brothers, Patrick and John Collison the company's products are live in 25 countries including 16 in Europe.
It has users in more than 100 nations, across a huge range of industries and its system can process more than 135 currencies.
The firm has raised more than $440 million in funding since its foundation from investors, including PayPal co-founders Peter Thiel, Elon Musk, and Max Levchin, as well as technology investment powerhouse Sequoia Capital, and credit card firms VISA and American Express.
Stripe has also bought six other companies and invested in two other firms.
It counts among its 100,000 customers big brands like Under Armour, Target, Kickstarter, Lyft, Deliveroo, Facebook, Salesforce.
It also partnerships with other giant tech firms such as Amazon, Apple and Alibaba.