Stronger iPhone prices and hints by Apple that it could return more than half of its $285 billion in cash to shareholders eased concerns among investors.
This was despite the world's biggest technology company giving a disappointing revenue outlook for the current quarter.
Apple also reported it sold fewer iPhones over the Christmas quarter than Wall Street had expected.
But the revenue outlook for the first three months of 2018 "was not as bad as some feared," analysts said.
Apple's comments about plans for its $163 billion in net cash helped boost shares 3.3% in after-the-bell trading on Wall Street last night.
"Over time, we are trying to target a capital structure that is approximately net neutral. We will have approximately the same level of cash and debt on the balance sheet," Apple's chief financial officer, Luca Maestri said.
"We're going to take that balance down from $163 billion to zero," Maestri said, referring to Apple's current level of cash net of debt.
He did not say whether the reduction in net cash would come in the form of returning capital to shareholders, capital expenditures or acquisitions.
Apple forecast revenue of $60 billion to $62 billion and gross margins of between 38% and 38.5% for its fiscal first quarter ending in March.
Analysts were expecting $65.7 billion in sales and a gross margin of 38.9% for the March quarter, according to Thomson Reuters, though some had forecast sales as low as $60 billion.
Bright spots in the fiscal first quarter ended December 30 included average selling prices for the iPhone that topped Wall Street predictions, at $796 versus expectations of $756.
The strong prices offset unit sales of iPhones that missed Wall Street expectations, coming in at 77.3 million units compared to estimates of 80 million.
The company posted revenue of $88.3 billion and profit of $3.89 per share, from $78.4 billion and $3.36 per share a year earlier.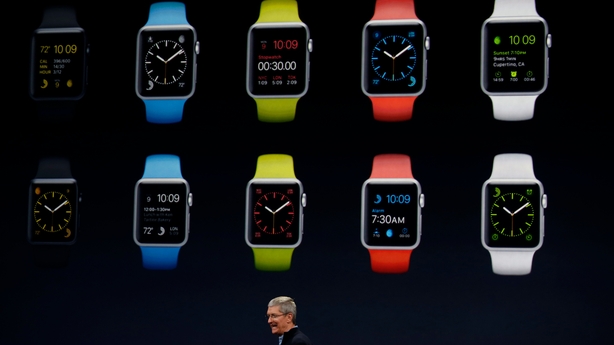 The results beat analyst expectations of revenue of $87.3 billion and profits of $3.86 per share.
Apple's services business, which includes Apple Music, the App Store and iCloud, grew 18% to $8.4 billion, missing analyst expectations of $8.6 billion.
Maestri said the lower services revenue was because the quarter was only 13 weeks rather than 14 weeks.
The services revenue was down slightly from $8.5 billion the quarter before.
Maestri also said Apple's installed base of active devices reached 1.3 billion, 30% higher than two years ago and representing an expansion of potential customers for the services business.
Apple said it expected its tax rate for the March quarter to be 15% following changes in US tax law.
The company said last month it plans to make a one-time tax payment of $38 billion on its overseas cash and has a five-year, $30 billion US capital expenditure plan.
The company did not say how much of its overseas cash it would bring back to the US in the short term and gave no new information about its capital return programme, which it typically updates each April.