WhatsApp was the big winner when it came to growth in the use of social messaging platforms in Ireland over the past three months.
According to the Ipsos MRBI Social Messaging Quarterly, the number of adults here who have the app has risen three percentage points to 61% over the period, with 63% of them using it every day, an increase of 5%.
Some of that growth seems to have come at the expense of Facebook Messenger.
The number of people with the service has increased 3% since August, but the proportion of those who use it daily has dropped 10 percentage points to 45%.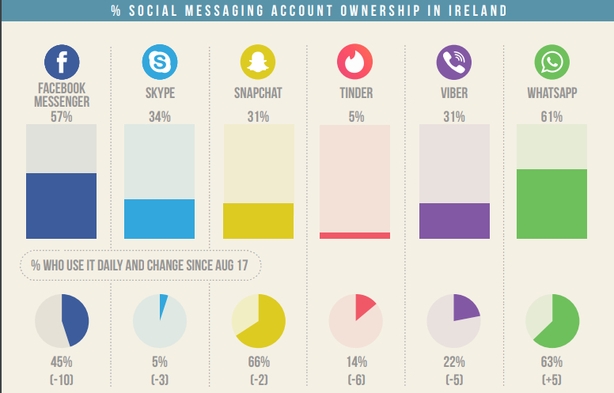 Viber and Skype also lost users here during the period and the number of people using those services at least once every 24 hours also dropped.
While once promising Snapchat recorded a modest 1% growth in its user numbers here, with two thirds of those using it daily, down 2% since the last survey.
Meanwhile, when it comes to social networks, Instagram saw the number of Irish users rise by 5% to 32% over the three months, although its daily users fell by 4 percentage points to 51%.
Facebook remains the most popular social network in the country, although it only added a small number of account holders here in the final quarter.
Google+ continued its slow decline, while the number of LinkedIn account holders remained static.
But the social network for professionals recorded a significant bounce in daily visitors, up 6% to 18%, since August.
The Ipsos MRBI Social Networking Quarterly also found Twitter made the most gains in user numbers and daily visitors, while Pinterest saw its daily reach drop by nine percentage points.