Turnout at US retailers has been relatively subdued on Black Friday, with many shoppers flocking to stores to eye items in person and enjoy the festive atmosphere while waiting to do their actual bargain hunting online.
There were few signs of the over-the-top frenzy that had been a hallmark of the start to the US shopping season in years past, and some stores appeared to be getting creative with gimmicks beyond heavy discounts to lure shoppers through their doors.
The day after Thanksgiving is traditionally when retailers offer "doorbuster" deals attracting bargain hunters.
Many department and big-box stores have said they will compete fiercely on price this quarter while keeping inventory lean.
But online demand may help make up for lacklustre store traffic, and even the subdued in-store activity this year marked an improvement over recent years.
Macy's Chief Executive Jeff Gennette told CNBC the retailer was better off this year than last, had robust online demand and was in a good place for holiday promotions, sending the retailer's shares up more than 4% in early trading.
JC Penney climbed 1.8%, while Target Corp and Wal-Mart Stores have edged higher.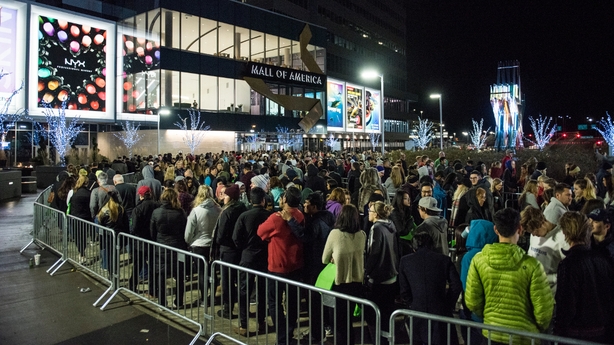 The period between the US Thanksgiving holiday and Christmas can make or a break a retailer, accounting for as much as 40% of total revenue for the year.
"The turnout this morning has been relatively slow but it is still the best we have seen in three years. We expect it to pick up as the day progresses," said Burt Flickinger, managing director, Strategic Resources Group. He cited improving consumer confidence, a strong job market, and healthy housing prices.
More people picked up deals online and the traditional rush was split by stores opening the night before.
Godiva gave out free chocolates, Sephora offered face masks and perfumes and dancers entertained Bergdorf Goodman shoppers, according to the New York Post.
The deepest Black Friday discounts included more than $200 off some BestBuy TVs, all bras across Victoria's Secret Pink stores sold for $25, half-price video games at Target, and $50 off PlayStation 4 Pro gaming consoles at Walmart.
The challenge for retailers will be to convert early spending into a desire to spend throughout the season and to go beyond deep discounts, NPD Group Chief Industry Analyst Marshal Cohen said in a note.
There were some signs, however, yesterday of the shopping frenzy that Black Friday is traditionally known for.
The Riverchase Galleria in Hoover, Alabama, outside Birmingham, said police had to be called to break up a fight at about 11:30pm yesterday between two women who might have been trying to get the same sale item in a store.
Mike White, general manager of the mall, said there were reports of two other scuffles in the mall, Alabama's biggest, and the mall decided to shut about 15 minutes early.
"There were just a lot of people shopping last night. We were full all night long."