US Commerce Secretary Wilbur Ross said today it was vital that any Brexit deal between Britain and the European Union would be in the commercial interests of the US.
Ross was speaking at a British business conference dominated by the looming split between Britain and its EU neighbour, with firms stating their concerns about the impact on trade in goods and services.
The UK government has placed great emphasis on the potential for a US trade deal and bilateral deals with other non-EU countries, to allow it to flourish after leaving the bloc.
Wilbur Ross said he hoped the US could become Britain's number one trading partner, citing already large trade flows between the two.
But he said that US interests must be taken into account when cutting an exit deal with the EU.
"It is important that an eventual Brexit agreement takes into account our commercial interests, and does not hinder development of a closer post-Brexit U.S.-UK relationship by continuing divergent standards and regulations and other protectionist measures," Ross said in a speech in London.
He criticised the EU's external trade policy, saying: "The EU talks free trade but actually is highly protectionist."
Meanwhile, the US Commerce Secretary today defended personal business links to Russia revealed by the Paradise Papers, in an interview with the BBC.
In a separate interview with Bloomberg, Ross indicated he could end the links but not because of any wrongdoing.
"I think the media has made a lot more out of it than it deserves," Ross told the BBC on the sidelines of the business conference in London.
Ross insisted that "there is no impropriety".
The Paradise Papers, released by the US-based International Consortium of Investigative Journalists (ICIJ), show that Ross has business ties to a shipping firm linked to Russian President Vladimir Putin's inner circle.
Ross's ties raise questions over potential conflicts of interest, and whether they undermine Washington's sanctions on Moscow.
Ross, a billionaire investor, holds a 31% stake in Navigator Holdings through a complex web of offshore investments detailed in the documents examined by nearly 100 news organisations as part of an international collaboration.
His personal share of the firm's stake was reduced when he took office in February, but the commerce chief's investment is still valued at between $2-10m, according to his security filings and government ethics disclosure.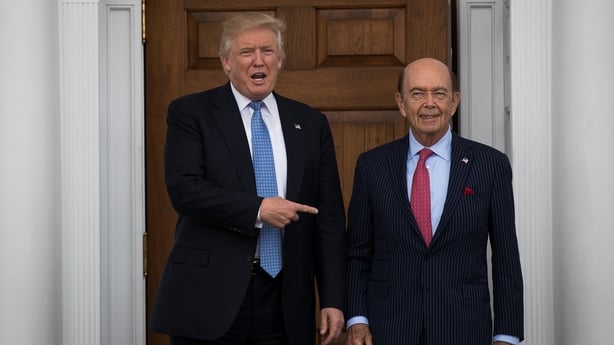 Asked by Bloomberg if he was keeping the remaining stake, Ross replied: "Probably not", adding, "I have been actually selling it anyway, but that isn't because of this".
Navigator Holdings runs a lucrative partnership with Russian energy giant Sibur, which is partially owned by Putin's son-in-law Kirill Shamalov and Gennady Timchenko, the Russian president's friend and business partner who is subject to US sanctions.
Mr Ross said the company in question, Sibur, is a very major hydrocarbon company. Its commercial relationship with Navigator Holdings is simply that Navigator charters some vessels to them.
"There's no interlocking of board, there's no interlocking of shareholders, I had nothing to do with the negotiation of the deal. And in fact it was negotiated before I went on the board of Navigator," Mr Ross said.
"But most importantly the company that is our client itself, Sibur, was not then sanctioned, is not now sanctioned, and never was sanctioned in between. There's nothing whatsoever improper," he stated.