Alphabet Inc last night reported stronger-than-expected advertising sales and higher operating margins, boosting its shares as investors brushed off concerns about higher costs for acquiring mobile users.
Third-quarter revenue for Alphabet, the parent company of Google, jumped 24% to $27.8 billion, above the average analysts' estimate of $27.2 billion.
Profit of $6.7 billion, or $9.57 per share, was also well ahead of Wall Street estimates.
Alphabet, along with much of the tech sector, has enjoyed strong growth in recent years as advertising moves from traditional media to the internet and consumers flock to an ever-expanding array of digital devices.
While Google faces political pressure, especially in Europe, over its growing dominance and its role in spreading propaganda online, those problems have yet to hit the bottom line.
Google's chief executive Sundar Pichai told analysts that efforts to attract "both large and small advertisers" around the world were paying off, especially in Asia, where sales rose 29% to $4.2 billion.
The third quarter was the 15th in a row in which Alphabet has shown double-digit, year-over-year consolidated sales increases.
The pace is not slowing down, with the growth rate reaching its highest level in nearly five years.
Ad sales at Google, Alphabet's main operating unit, account for the vast majority of the company's revenue.
The ad business faces competition from Facebook but has continued to grow as more users turn to Google's YouTube and mobile search services.
Alphabet shares trade for almost 25.8 times expected earnings and Facebook at about 26.5 times, according to Thomson Reuters data.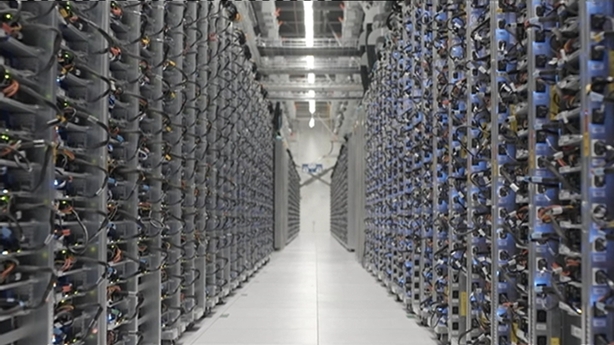 Investors have been increasingly concerned about a sharp rise in costs for getting ads in front of users as Google pays Apple and other companies to integrate Google search into mobile products and services.
The payments are included in traffic acquisition costs, or TAC, and they rose 54% in the quarter, accounting for 12% of ad sales.
Pichai defended the partnerships in response to several analysts' questions, calling the deals "a win-win construct" because Google performs "better when our partners do well."
"We're pretty comfortable with how we're approaching it," he said.
Other analysts said revenue growth and cost controls made TAC increases less of an issue.
Google's other revenue, which includes hardware such as the Pixel smartphones and Home speakers as well as the cloud computing business, also enjoyed solid growth.
Sales from non-ad businesses rose 40% from a year ago to $3.4 billion in the quarter.
Among Google's top priorities is expanding its salesforce to catch up with Amazon Web Services in providing corporate computing via large data centers, Pichai said.
Alphabet does not break out cloud revenue, but analysts estimate it at about 15% of Google's other revenue.
Google also is trying to take on Apple in the high-end smartphone business with the Pixel.
The company deepened its investment in September, agreeing to acquire 2,000 engineers from smartphone maker HTC for $1.1 billion.
Google's Android operating system already powers most non-Apple smartphones.
But Google's second-generation Pixel had a rough debut last week, with users complaining of a faulty screen and clicking noises during calls.
The company responded by doubling the warranty period for the smartphones to two years and promising to issue software fixes.
Losses from Alphabet's Other Bets segment, which includes the Google Fiber broadband service and smart thermostat maker Nest, narrowed to $812m from $861m.
The change reflected both an increase in sales across the companies and scaled back expansion plans for Fiber.
Google faces political uncertainty as European regulators crack down on its business practices and US critics call for greater regulation of the tech industry.
The company recorded in the second quarter a $2.7 billion European Commission fine for unfair treatment of shopping websites in search results.
Competiton experts have said another fine could come by the end of year, as the Commission investigates its distribution deals with smartphone vendors and wireless carriers.