Microsoft has announced the creation of 200 new jobs in Dublin, which will bring its Irish workforce to 2,000.
The company had announced in February that it would use Dublin as a base for one of its Inside Sales offices, with Microsoft staff here selling products across Europe, the Middle East and Africa.
At that time it said it would take on 500 people to staff that office - 80% of whom have already been hired.
The 200 jobs announced today are in addition to those positions, and Microsoft said it expects to have all 700 new jobs in position before the end of this year.
"The continued contribution of the Dublin-based Inside Sales team to the company at a global level ensures that we are in a strong position when we seek to attract further investment to Ireland," commented Microsoft Ireland's managing director Cathriona Hallahan.
"With the continued growth of our team and our preparations for a move into our new state of the art campus building, our fourth decade in Ireland is shaping up to be the best yet," Ms Hallahan added.
Minister for Business, Enterprise and Innovation Frances Fitzgerald said the jobs announcement demonstrates the opportunities that can be created for Ireland from our existing employers and investors.
It "illustrates that the talent is available in Ireland for these types of jobs and for employers," the Minister added.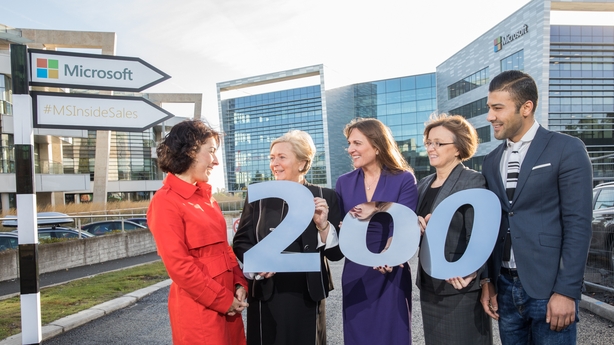 IDA Chief Executive Martin Shanahan said the addition of a further 200 roles to the EMEA Inside Sales team demonstrates the availability of highly-skilled technical and sales talent available in the region.
"Microsoft's continued growth and commitment to Ireland has resulted in Dublin being a strategically important location for the company's global business," Mr Shanahan said.
"Ireland is a global technology hub of choice when it comes to attracting the strategic business activities of ICT companies and Microsoft's ongoing expansion in Dublin is a clear endorsement of this," he added.
Microsoft first set up in Ireland in 1985 and its Irish operations now include the company's EMEA Data Centre, European Development Centre, EMEA Operations Centre and European Development Centre.