US President Donald Trump has proposed the biggest US tax overhaul in three decades, offering to cut taxes for most citizens but prompting criticism that the plan favours the rich and companies and could add trillions of dollars to the deficit.
The proposal, which the Republican president said was aimed at helping working people and creating jobs, faces an uphill battle in Congress with Mr Trump's own party divided and Democrats hostile.
Republicans plan to lower corporate income tax rates, cut taxes for small businesses, reduce the top income tax rate for individuals, and scrap some widely used tax breaks, including one that benefits people in high-tax states dominated by Democrats.
Among Mr Trump's proposals is a plan to cut the US corporation tax rate from 35% to 20%.
As a presidential candidate, Mr Trump had promised to cut the rate to 15%.
"It's going to be something special," Mr Trump told reporters at the White House, touting it as "the largest tax cut essentially in the history of our country".
The plan, forged during months of talks among Mr Trump's aides and top Republicans in Congress and embraced by big business, contained scant details about how to pay for the cuts without fuelling deficits.
Mr Trump, a real estate mogul-turned-politician, said when asked by reporters that he personally would not stand to gain financially from the proposal.
"I think there's very little benefit for people of wealth," said Mr Trump, who has refused to make public his own tax returns unlike many of his White House predecessors.
Republicans have produced no major legislative successes since Trump took office in January even though they control the White House and both chambers of Congress.
The tax plan was outlined the day after the Republicans' top legislative priority, an overhaul of the US healthcare system, collapsed in the Senate, while another key item on Mr Trump's wish list, infrastructure spending, has yet to materialise.
A comprehensive rewrite of the US tax code has eluded politicians for decades. The last one was passed in 1986.
The White House said that under the proposal typical middle-class families would have less of their income subject to federal income tax.
Mr Trump noted that the first $12,000 earned by an individual and the first $24,000 by a married couple would be tax-free.
The plan would lower the top individual rate to 35% from 39.6%.
The proposed corporate tax rate cut does not go as low as the 15% Mr Trump had sought.
Companies in the United States pay high taxes by global standards, but many of them pay much less than the headline rate due to loopholes and tax breaks.
The proposal now faces a long legislative process that could take months.
Mr Trump has appealed to Democrats to support the plan, although they were not consulted in drafting it, and high-profile Democrats have already criticised it.
"Under this plan, the wealthiest Americans and wealthiest corporations make out like bandits while middle-class Americans are left holding the bag," said Chuck Schumer, the top Senate Democrat.
Republicans hold a thin 52-48 majority in the Senate and may need some Democrats on board to win passage.
But Democrats said the plan would expand the federal deficit in order to deliver tax cuts to wealthy Americans rather than the middle-class families that Mr Trump and Republicans say they are trying to help.
Senator Ron Wyden, the top Democrat on the Senate Finance Committee, also criticised the proposal.
"If this framework is all about the middle class, then Trump Tower is middle-class housing."
Kevin Brady, chairman of the tax-writing House of Representatives Ways and Means Committee, said he expected tax legislation to be passed by the end of this year.
House Speaker Paul Ryan, a Republican, said: "This is a now-or-never moment."
The White House and congressional Republicans did not give an estimate of the plan's cost or how much it might add to federal deficits.
The Committee for a Responsible Federal Budget policy group has estimated that the plan contains about $5.8 trillion over a decade of total tax cuts and would have a net cost of $2.2 trillion through 2027.
Analysts have warned that huge tax cuts would balloon the federal deficit and debt if economic growth projected by Republicans to offset the costs fails to materialise amid rising interest rates.
The proposal was embraced by the US Chamber of Commerce business lobbying group and an organisation called the RATE Coalition representing large American companies including AT&T Inc, FedEx Corp, Home Depot Inc, General Dynamics Corp and Walmart Stores Inc.
---
What Trump's tax plan means for Ireland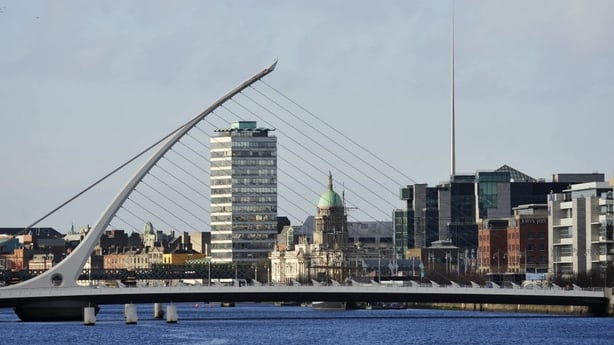 Commenting ahead of Mr Trump's speech, Tax Partner at Grant Thornton Peter Vale said: "From Ireland's perspective, the proposed cut in the US corporation tax rate to 20% jumps out.
"It's worth noting that originally 15% was the target new rate. We would still be of the view that ultimately any corporate tax rate cut is likely to land in the 25% to 30% bracket.
"When you factor in state taxes, a large differential will very likely remain between the effective US and Irish corporate tax rates.
"Unquestionably, a lower US corporation tax rate will make it more attractive to do business in the US.
"However, the majority of US companies are in Europe for commercial reasons, not for tax. In choosing which European country to base their operations, tax is then undoubtedly a factor.
"As Ireland continues to have the lowest corporate tax rate, we would see the risk of a significant outflow of US investment from Ireland as low. Similarly we would not expect to see a significant reduction in new US FDI here.
"So while a tax rate cut in the US makes the US more attractive, we would see the risk of a significant adverse impact on Ireland as low."