Food and fuel retailer Applegreen has reported a 20% increase in gross profits for the first six months of this year to just over €82m.
Applegreen said its revenue also rose by 20% to €672.5m, while its adjusted pre-tax profit grew by over 25% to €10.1m. 
The company said its earnings before interest, tax and other items was 28% higher at €16.6m.
It has proposed an interim dividend of 0.60 cent per share. 
The group had 275 sites in operation as of the end of June. It expanded its portfolio with 32 sites in the six month period across Ireland, the UK and the US, including 11 sites in the Republic. 
Applegreen's chief executive Bob Etchingham said the company's performance was underpinned by favourable fuel margins, very strong like for like growth in non-fuel revenues and margins together with continued investment in the expansion of the firm.
"A further 32 sites were added to the estate in H1 2017 and this investment activity has continued since the period end as we identify opportunities for growth across our three markets," the CEO added. 
Applegreen recently acquired a 50% interest in the Joint Fuel Terminal in Dublin Port and announced the acquisitions of the Brandi Group in the US and the Carsley Group in the UK.
 
"We now have a good platform for growth in each of our three markets and are well positioned for the seasonally important second half of the year. Overall, we remain confident in the prospects for the business in 2017," Mr Etchingham added.
Applegreen said its revenue in Ireland rose by 15.4% and gross profit rose by 16.4%. Like for like food and store sales increased year on year by 6.4%.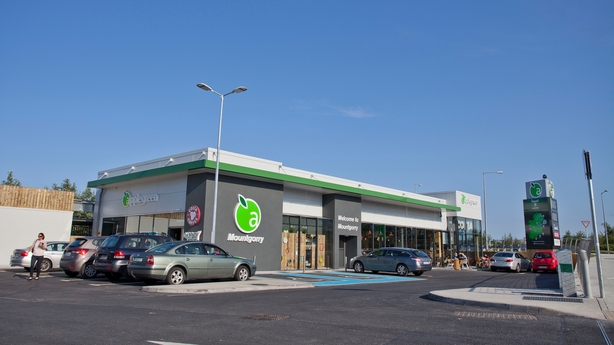 It also noted that its dealer and fuel card volumes have shown significant growth and now account for 29% of Republic of Ireland fuel volumes. 
Applegreen's UK revenues rose by 23.6% in the six month period, while gross profits increased by 22.7% mainly due to the company's expansion. 
Combined food and store sales and gross profit grew by 11.8% and 16.5% respectively.
During the six month period, Applegreen added 13 new forecourts in the US, which brings the total number of trading forecourts there to 24.
Shares in the company closed 4.2% higher in Dublin trade today.