Dalata Hotel Group has reported an 80% jump in its profits for the six months to the end of June, while revenues rose by 24.4%.
The country's largest hotel group said its profits came in at €32.7m, while revenues for the six months totalled €161.8m, sending its shares sharply higher in Dublin trade.
Group revenue per average room rose by 9.8% to €82.27, while the company's Dublin room revenues outperformed the market with growth of 11.2% compared to city growth of 7.2%.
The group said it spent €17.1m in new builds and extensions to properties during the six month period, including work on the Clayton Hotel Charlemont, Maldron Hotel Kevin Street, Maldron Hotel Belfast City and Maldron Hotel Newcastle.
The company said it has a pipeline of over 1,280 new rooms on target to open in 2018, adding that construction began in May on the 141 room extension at Clayton Hotel Dublin Airport.
Dalata noted that Dublin, one of its key markets, has seen a dropoff in visitor numbers from the UK due to the weakening of sterling since the Brexit vote.
But this has been more than offset by an increase in visitor numbers from North America and other European countries, it added.
Meanwhile, the UK hotel market in which it operates continued to perform strongly and appears to be benefiting from the weaker pound.
The company also announced today that it has agreed a new lease deal for a new Clayton Hotel to be built in Manchester City centre. The hotel will have about 300 rooms and is expected to open by the middle of 2020.
Dalata said the performance of its hotels has been strong in July and August and the outlook remains positive for the rest of the year.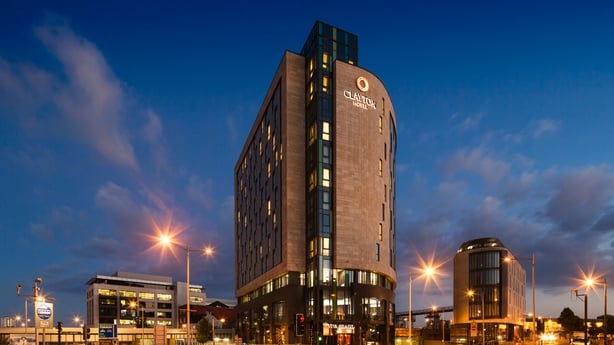 "We are very focused on both exploiting further opportunities to grow our portfolio while also delivering operational expertise," commented Dalata's chief executive Pat McCann.
Mr McCann said that the company is monitoring the reduction in UK visitors to Ireland since last year's Brexit vote.
"To date, overall visitor numbers remain robust due to growth in other markets. Our strategy of retaining substantial volumes of corporate and tour group business in our hotels makes us less reliance on the UK transient visitor," he added.
The CEO predicted that the second half of the year will be a busy period for Dalata Hotel Group.
"We will continue to explore the exciting opportunities which exist in the UK and Irish hotel markets and will continue to work on our development projects and extensions," he added.