The Minister responsible for research and development has expressed doubt about whether Ireland will reach its target of doubling spending on it by 2020.
John Halligan said he was unsure about whether Ireland would be able to increase research funding enough by then to hit the 2.5% of GNP mark.
Public and private spending on the area is around 1.7% of GNP at the moment, the Minister of State for Training, Skills, Innovation, Research and Development said.
"We would all hope that that would be the case, and I myself will do all I can to make sure that sustainable and continued investment is made in research, development - and particularly in Science Foundation Ireland," Mr Halligan said.
In 2015, the Government launched its new science strategy, Innovation 2020, which made a commitment to double total spending on research and development here over the five years of its lifetime.
Since then, however, Government spending on research and development has only increased by around 3% or €25m to €761m.
The need for a funding increase for the sector was underscored by the SFI's Director General and Chief Scientific Adviser to the Government.
Professor Mark Ferguson told RTÉ News that certain programmes may have to be cut back next year unless there is an increase in funding.
In total, SFI is seeking a budget increase of €54m to cover a range of continuing and new activities.
Professor Ferguson said there was a need to continue the investment or else Ireland's progress would be eclipsed.
He also pointed out that an expert group which he was a member, established to advise the European Commission on investment in innovation, recently recommended the EU should double its research budget.
However, Professor Ferguson also claimed that the need for increased funding was "a good sign".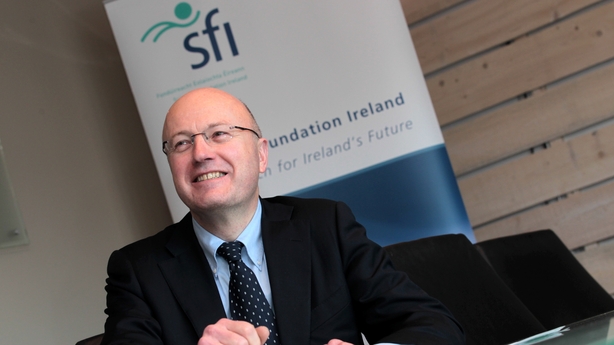 "It means that the academic community are performing to international level, it means the industrial community are engaged and they are co-funding, it means the research is globally excellent and impactful, and that's fantastic," he said.
"It's absolutely fantastic from an agency perspective that we have these excellent projects that we don't get a budget for because I can tell you that's a lot more difficult to do in terms of getting the engagement and getting the excellence than actually getting the money," the Professor stated.
One example of the funding challenge facing the sector is the stalled plan for four new research centres.
In May, SFI announced that eight new research centres had reached the bar for backing from it, having met the highest standards of scientific excellence and potential future impact.
However, SFI only has the funding in place to pay for four of them, meaning the other four will have to wait until such time as the budget increases.
The four that are to proceed will receive state funding of €72m over the next six years, with 80 industry partners committing an additional €38m.
Asked if the new Cabinet was more disposed to increasing research funding than the old one, Mr Halligan said he thinks the Taoiseach and Tanaiste are great believers in research and development.
Professor Ferguson was speaking as SFI published its annual report for last year.
In total the agency invested €184m in research during the period and through this funding leveraged €169m in EU, private and other money.
Ireland is now ranked 10th in the world for the overall quality of its science, having risen 26 places in 13 years.
According to SFI, 31,000 jobs are now directly and indirectly supported by it.
Its global connections have also increased with researchers that it funds now involved in 2,359 international collaborations across 63 countries.
During 2016, SFI also announced new partnerships with the US National Science Foundation (NSF) entrepreneurship programme - ICorps@SFI and the National Natural Science Foundation of China.
SFI said its 12 existing research centres have notched up 300 industry collaborations, 13 spin-out companies and 100 license agreements.
The centres have also secured income from industry and other international sources over the four years of their existence equal to 70% of what the state has invested into them.
As well as working on progressing the establishment of the new research centres, SFI is also working to take advantage of opportunities presented by Brexit, Prof Ferguson said.
In particular, partnerships with UK Research Councils, the Royal Society and Wellcome Trust are being developed.
It is also trying to attract "star" scientists to Ireland, including those who may already be working in Britain or who would otherwise have considered moving to the UK prior to Brexit.
Asked when the Government would decide about whether Ireland should join the European Southern Observatory astronomy project, Mr Halligan said there was no decision on that yet.
He said he believes we should join if we can but there is a cost factor.
He also agreed that there was a timing issue, in that if Ireland does not join soon the cost will increase.