89% of households in Ireland have access to the internet in their homes, up from 87% in 2016, according to new figures from the Central Statistics Office.
The CSO's latest Information Society Statistics for Households shows that fixed broadband is the most common type of internet access with 84% using fixed broadband compared to 49% using mobile broadband.
The CSO said that fixed broadband connections are highest in the Dublin region at 93%, compared to the Border and Midland regions - both at 72%.
It also noted the main reasons people stated for not having an internet connection in their home were "do not need access" at 45% and "lack of skills" at 43%.
Finding information on goods and services was the most common activity carried out on the internet, today's figures show, with 86% of people going online for this reason.
The next most common reason for using the internet was email (85%), social networking (72%) and internet banking (71%).
The CSO data unsurprisingly also reveals that 95% of people in the 16-29 years age group used the internet in the past three months.
92% of this age cohort said they accessed the internet every day.
Meanwhile, 48% of people in the 60-74 age group said they had gone online in the last three months, but 46% of that age group said they have never actually used the internet.
More women than men used the internet - 83% of women compared to 79% of men. The CSO said this follows the same trend as in previous years.
Today's CSO data also shows that smartphones were used by 87% of people to access the internet when they are away from home.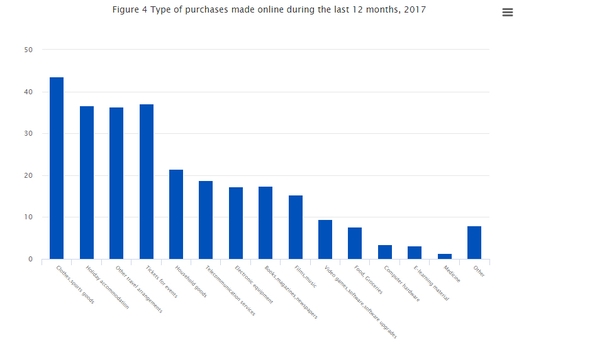 Meanwhile, clothes or sports goods were the most popular online buys this year with 44% of individuals making such purchases.
The next most popular item was tickets for events and holiday accommodation - both at 37%.