Paddy Power Betfair said it was cautious on revenue growth in its main European market due to a "pretty extreme" level of competition, even as it almost doubled earnings across the group in the first quarter.
Competition has intensified among gambling firms seeking to offset higher taxes and tighter regulation with increased revenues.
This has resulted in a flurry of mergers including last year's £6 billion tie-up between online betting exchange Betfair and Paddy Power, which operates shops as well as an online business.
The ensuing aggressive pricing and promotional activity has made it tougher to win new business, Paddy Power Betfair chief executive Breon Corcoran said today.
This meant that the Dublin-headquartered firm was "a little bit behind where we hoped" on increasing its customer numbers in Europe.
"The competitive nature of this industry right now is pretty extreme. What we have to remind our shareholders and indeed our competitors is that we have plenty of appetite to compete," Corcoran said on an analyst call.
"What's not entirely clear is whether we're being rational or whether we're not competing hard enough. If this industry continues to be as competitive as it is, we have to give ourselves the flexibility to increase investment," he added.
Its main competitors include Ladbrokes Coral Group, itself the product of a merger, and William Hill which has so far been left off the M&A merry-go-round.
The group's online revenue in Europe, which accounts for more than half of total revenue, increased by 12% on a constant currency basis in the first quarter, driven by improved sports results and growth in the amount of money staked.
Overall revenue growth of 15%, combined with merger-related cost savings and operational efficiencies helped push underlying core earnings or EBITDA up 87% to £111m.
Corcoran said it was too early to give any guidance for the year but that sports results had favoured customers since the end of March and overall gross win margins were weak in April.
Paddy Power Betfair earlier announced a doubling of operating profits for the first quarter of 2017 while its revenue rose by 15%.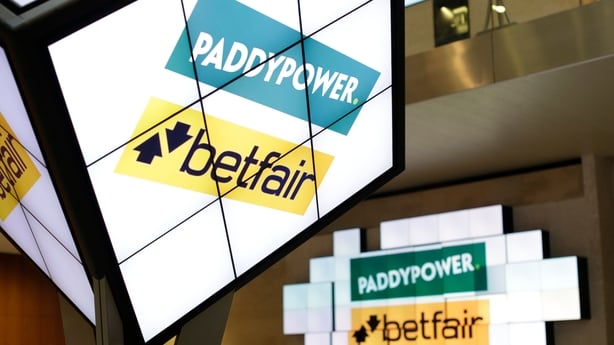 In a trading update for the three months to the end of March, the company said that its underlying operating profits jumped by 114% to £91m from £42m the same time last year.
Revenues for the three month period rose to £416m from £339m as horse racing results at Cheltenham favoured bookmakers for the first time in two years.
19 of the 28 Cheltenham races were profitable for Paddy Power Betfair this year compared to just 11 races in 2016, the company noted.
"Combined with the annualisation of merger-related cost savings and continued focus on operating efficiency, this resulted in a doubling of operating profits in the first quarter," Breon Corcoran said in the statement.
Paddy Power Betfair also said that the growth in revenues included a £23m benefit from the translation of non-UK revenues due to the weakness of sterling.
The company said it opened four new shops in the UK and one in Ireland during the quarter, taking its total estate to 618 shops.
Revenue in Paddy Power Betfair's online operations increased by 15% to 224m, mainly on the back of a 33% rise in sportsbook revenue.
Meanwhile, revenue in its Australia operations grew by 21% in local currency, while its US revenue was up 12% in the first three months of the year.
Retail revenue rose by 23% to 82m and the company said that excluding the impact of new shops and currency movements, like-for-like revenue was up 16%.
This growth came on the back of a 20% increase in sportsbook revenue, driven by 3% stakes growth and improved sports results, and machine gaming growth of 7%.
Shares in the company were lower in Dublin trade today.